Ok folks I have an issue with DNS. I think I have done about everything I can but I need another set of eyes.
Here is what the issue is.
DNS will accept updates from clients and DHCP. Based on what I can see any client with a DHCP address is staying in DNS. However if the machine has a static address the machine is not updating it's DNS records. This in turns causes the DNS records to tombstone and the record get removed.
Upon looking at it a bit more I found that when a PC/Server with a static IP address updates the DNS the record tombstones in about 3 hours.
Looking at the TTL on the record it is showing as 20 min.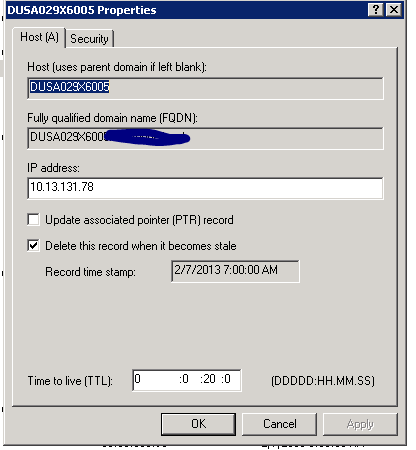 That record just happens to be a DHCP entry. However if it was static in about 3 hours it should show as Tombstoned in ADSI Edit.
My SOA has a refresh interval of 15 min, retry interval of 10 min and expires after 1 day. The minimum ttl is 1 hour.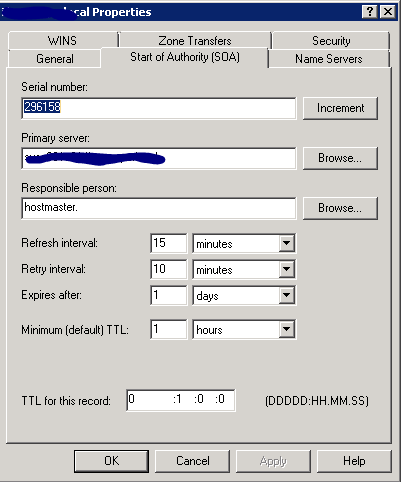 In looking at my Zone Aging/Scavenging, the no-refresh and refresh intervals are at 1 day each.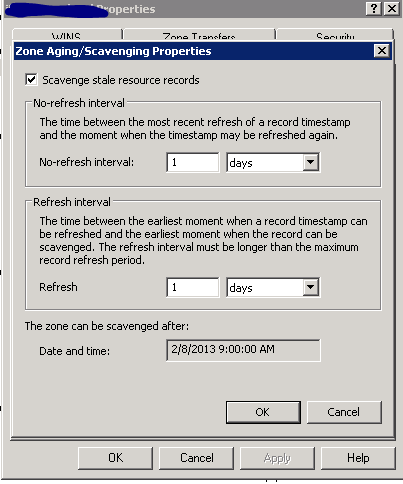 I am honestly so confused at the moment that I just need someone to set my head right in how I need to troubleshoot this.
Thanks for your advanced assistance.
Tucker