I'm setting up a help desk for a non-profit.
The non-profit will supply support to clients in the U.S.
The clients are not tech-savy and may not have administrative rights on their computers. Ideally, the setup for the presenters needs to be easy and avoids an install.
Despite my company's non-profit status, this is commercial use of the desktop sharing application. That-being-said, we expect to pay for the service. Our clients cannot see a message like the Mikogo message shown below.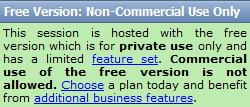 I'm looking for a pricing plan that isn't punitive for a large number of presenters as LogMeIn Pro, for example, is.

Finally, the help desk providers will not be at static IP address. They'll be connected to the WAN with dynamic IPs, sometimes they'll be in coffee shops, sometimes they'll in their own client's offices.
Suggestions?