pdvsa
asked on
combo box, value list: "Yes", "No", remove "No" in query
I have a combo box with a value list ="Yes";"No", text property
i need to remove the records with "No" in the query
I put <>"No" in the criteria of the query but it removes the nulls as well.
I have tested many ways but I guess I am not doing something right.
How can I display only the "yes" records and the nulls?  
thank you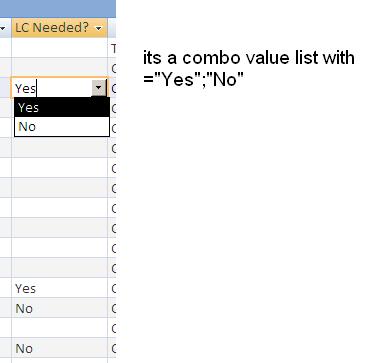 ASKER CERTIFIED SOLUTION
THIS SOLUTION IS ONLY AVAILABLE TO MEMBERS.
View this solution by signing up for a free trial.
Members can start a 7-Day free trial and enjoy unlimited access to the platform.

dang...forgot about that one.  thank you