When I run my Delphi application, Windows 7 shows a taskbar button in the Windows taskbar. When the user opens a new form in my application, I want that the taskbar button for my application is visually changed and when the user clicks on it a popup appears with a list of the windows (see picture).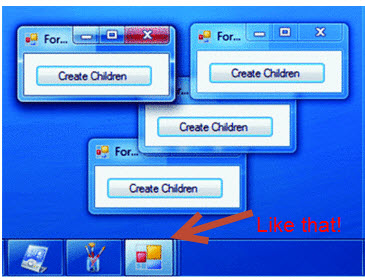 So basically the standard Windows behaviour like in Outlook when you have multiple emails open at the same time.
I searched the web and found a few "solutions", but they don't work for me. Maybe I overlook something really easy but I cannot find it. I attached my sample that does not work and I would like somebody to fix it.
When you run the program, click on the button to open a new window. Now the taskbar button should have changed to indicate that there is a new window for this app but it doesn't do that.
I would be pleased if someone can change the program so that it works.
Regards,
Dirk.
Test2.zip