I posted this question the other day and accepted the answer too quickly. I still need to to update both Firefox and Flash on two PCs but I can't due to FF and Flash incompatibility.
I'm looking for any ideas.
UPDATE: In response to the earlier question (
Previous question on FF anf flash incompatibility
) I did a clean uninstall of flash 10.3, updated Firefox to version 21, and clean installed flash 11. This worked fine for about a day but then the same flash crashes started happening. So far, about once per day.
So, still looking for ideas how to resolve this problem.
ORIGINAL PROBLEM STATEMENT:
Firefox 17.0 and Shockwave Flash 10.3 seems to work fine together. This is the current configuration. The PCs run Windows 7 ultimate 64-bit.
If I leave FF alone and update Flash then the flash app crashes frequently inside FF and flash is not viewable. There have been a lot of posts in Mozilla about incompatibility problems and the bottom-line solution is downgrade to flash 10.3. This is effectively what I have done.
If I leave flash alone and update Firefox to the current version 21, flash windows on a web page display the following warning message.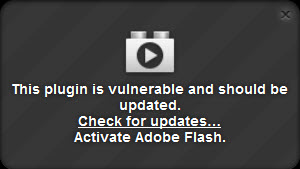 Clicking "activate adobe flash" will allow the flash content to be viewed. But it does not remember that "activate adobe flash" was clicked so this must be done EVERY time one wants to view flash content. This is not an acceptable situation.
Other proposed solutions that I see in various help forums including Mozilla have no effect:
* uninstall and reinstall flash.
* uninstall and reinstall firefox.
I have not yet tried resetting firefox since it is a nuisance (having to reload all extensions and plugins) and I've seen a number of comments that it does not fix the problem.
So, any further ideas about how to get current releases of Firefox and Flash to work together properly?
Thanks,
Pete