Afternoon,
I'm using Visual Studio Express 2012 for a new VB.Net project.
I want to use a XML file with my program. So when the user clicks the button to get to the Settings area (below) of my windows form, the form upon opening will read the XML file from \\ServerA\test\settings.xm
l and populate all of the textboxes where there is data already set.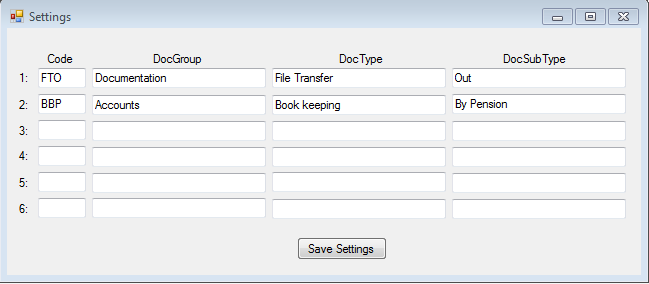 Then if the user wants to add a new row of data in the available text boxes or maybe update one of the textboxes they will just type this in and click on the Save Settings button which will write the new information to the XML file.
My textboxes are labeled as CDtxtbox1, DGtxtbox1, DTtxtbx1, DSTtxtbx1, CDtxtbox2, DGtxtbox2, DTtxtbx2, DSTtxtbx2… and so on, each row of textboxes being related to each other.
I'm not sure how to start this off as Im new to VB.net.
Would appreciate any sample code to get me started with this.
Thanks,
N