Our Server 08 Enterprise VM host has the the OS and boot partition on a SATA enterprise drive, we recently purchased a couple SAS drives and want to relocate the boot partition & OS partition to the SAS RAID 1. There has to be a way to accomplish this without reinstalling everything. Ideally it would be nice if this could be done online with minimal downtime.
currently the SAS Array is unformatted. Do I do an image restore onto the blank array via Server Backup?
I've included a couple of screen snapshots of the array config, and disc manager. In disc Manager disk0 is the SATA drive we want to decommission; and Disk2 is the logical drive (array) we want to be the new boot drive. I've tried ghosting, but the software doesn't see the logical drive (array); just the SATA drive.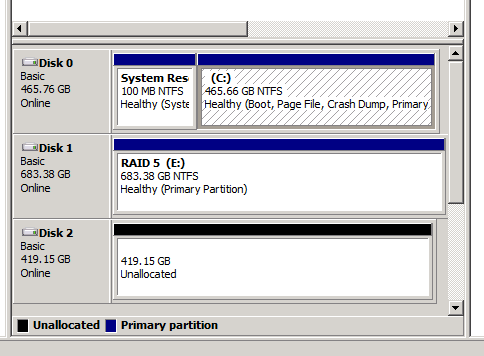 I'm stumped. Taking the system down for an extended period of time would be a costly venture. So if that can be avoided, that would be great. Oh, it's on a HP Proliant ML350 G6, utilizing the onboard P410 controller 512mb BBWC. Would the HP Advance Pack (for this controller) be worth the 400 bucks? I'd rather purchase another cage and more disc for the 400 bucks. :)
Any assistance would be greatly appreciated.
Sincerely,
Mark