A coworker of mine got the attached error installing SQL Server 2008 R2 on Windows 7 32-bit: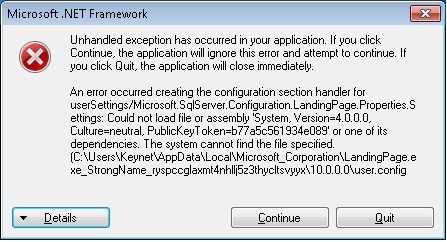 "An error occurred creating the configuration section handler for userSettings/Microsoft.Sql
Server.Con
figuration
.LandingPa
ge.Propert
ies.Settin
gs: Could not load file or assembly 'System, Version=4.0.0.0, Culture=neutral, PublicKeyToken=b77a5c56193
4e089' or one of its dependencies. The system cannot find the file specified. (C:\Users\<user>\AppData\L
ocal\Micro
soft_Corpo
ration\Lan
dingPage.e
xe_StrongN
ame_<many alphanumeric characters>\10.0.0.0\user.
config"
with options of Continue and Quit.
Now, I have looked on Google and ExpertsExchange and have found several instances of this error; however, in all cases, people are asking about how to fix the problem. It seems to boil down to A) uninstalling/reinstalling SQL Server; B) reinstalling .NET 3.5 and/or 4.0 or C) having corrupt installation media. The thing is, my coworker just continued. Now, SQL Server and the applications using it seem to be working fine after just ignoring the error.
Does anyone know what happens if you just ignore the error? Does SQL Server have subtle problems down the line because of it? Or is the simple fact that SQL appears to be working normally sufficient evidence that the installation managed to work around the problem?
One more note: The system previously had SQL Server Developer Edition; my coworker uninstalled this and all other SQL Server items he could find in Programs and Features before installing SQL Server 2008 R2.
Thanks,
Midnight42