I've been given the task of recreating a word document into a report. The document is a closeout report that is made at the end of a contract/project. Much of the information is stored in our database but some of it would be entered manually from Project Managers or other staff near/at the end of the contract.
We are using SharePoint 2010 Foundation, MS SQL 2008 R2 and Office 2010.
Here is example of first page: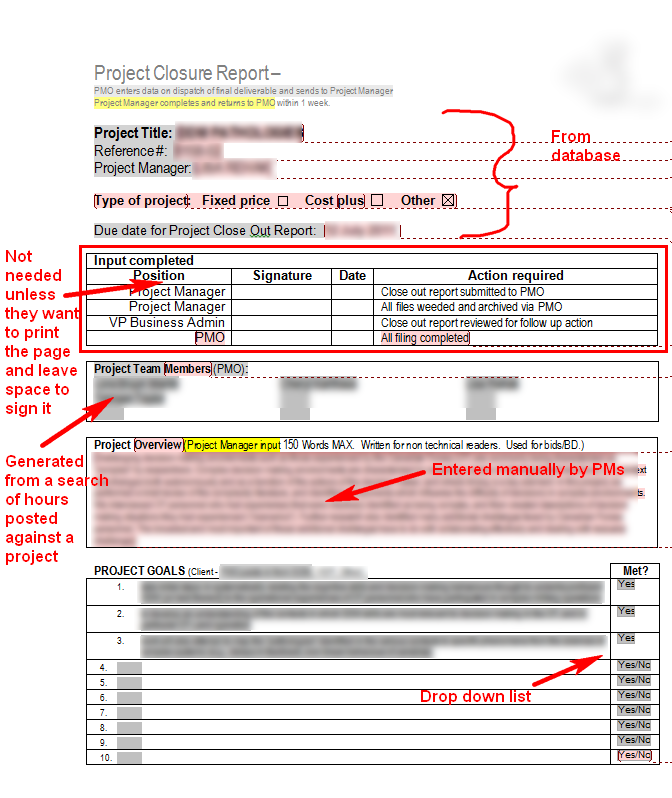 It has a mix of data, some are currently not being housed in our database. We can create custom tables/fields to store this information in our current system or we can create a new database tailored for us specifically (where our old one was developed for our time entry/project management software) or we can save the information in lists or Access (though I'm not keen on the last one). We want to encourage our staff to utilize SharePoint so I think a list would be best.
What would be the best way to set this up? I can call and display reports I've developed in SSRS but there is no way for those reports to produce textboxes or input controls for users to input information and the report to store it. I thought about making parts of the document in smaller reports and having them display in web parts that way I can put input controls in web parts between, making it look like one report when its a collection of smaller parts. Not sure how efficient that would be. We have InfoPath but SharePoint Foundation doesn't let us use InfoPath for online forms, which sucks. I'd prefer to have the report displayed within SharePoint and have parts of it editable rather than have a link go to another page entirely to update information. Actually I'd love to create the page in Dreamweaver and have it pull data and populate fields, as that is what I'm used to, but sadly that isn't an option.
Can anyone please offer up some ideas of how to approach this?
It would be greatly appreciated!!!