Note: this is a follow-up to this thread:
Use a function as the criteria in the Excel =COUNTIF() function
Hello,
The screenshot (with details) shown below is from an Excel (2010) spreadsheet which is attached. The purpose of the spreadsheet is to:
Display the Running Total of Col A dates which are in 2013 but are not Sundays.
The objective has already been achieved (I believe) in the attachment with the results shown here in Col G: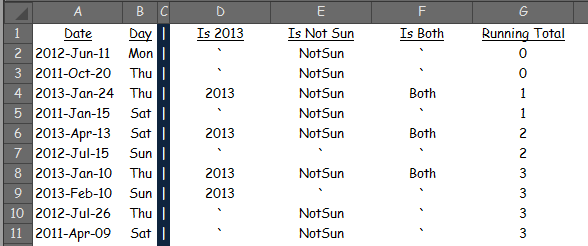 The data range includes Rows 2:100 and has the following columns:

Col A_a random date between 2011-Jan-01 & 2013-Jun-05
Col B_the day of the week
Col C_spacer
Col D_shows dates in 2013 ("`" if not)
Col E_shows non-Sundays ("`" if not)
Col F_shows when both Cols D & E are True ("`" if not)
Col G_shows running total of "Boths" in Col F

A2 =RANDBETWEEN(40544,41430)
B2 =TEXT(A2,"ddd")
C2 n/a
D2 =IF(YEAR(A2)=2013,2013,"`")
E2 =IF(B2<>"Sun","NotSun","`")
F2 =IF(AND(D2=2013,E2="NotSun"),"Both","`")
G2 =COUNTIF($F$2:$F2,"Both")
However, the question now is:
Can the same endpoint be achieved in a single column?
I have always assumed that any number of formulas—each of which builds upon the previous—can be nested into a single formula. However, that may be a very naïve assumption and not true. If it is true though, I cannot figure out how to put the formulas together in this case.
Thanks
2013-06-05a-EE-function-for-crit.xlsx