I just want to make sure that my understanding of this network is sound and that what I'm trying to do here will actually work.
I have a customer who has two different ISPs - one is a fast(ish) 4G cellular network which has limited bandwidth. The other is a slow satellite connection which has no bandwidth restrictions. They want to be able to connect to one network, or the other, at will. They also have a large house, and need multiple access points around the house to get good coverage.
I'm using Engenius EAP350 access points, which can broadcast 2x SSIDs and support 802.1q VLAN tagging depending on which SSID the computer connects to. I also have a SG200-8P Cisco switch which these APs are connected to, which also supports tagged VLANs.
The idea is that wherever they are in the house, they can select the desired wifi network to connect to and that will allow them to control which ISP they're using.
Here's a rough diagram of my network: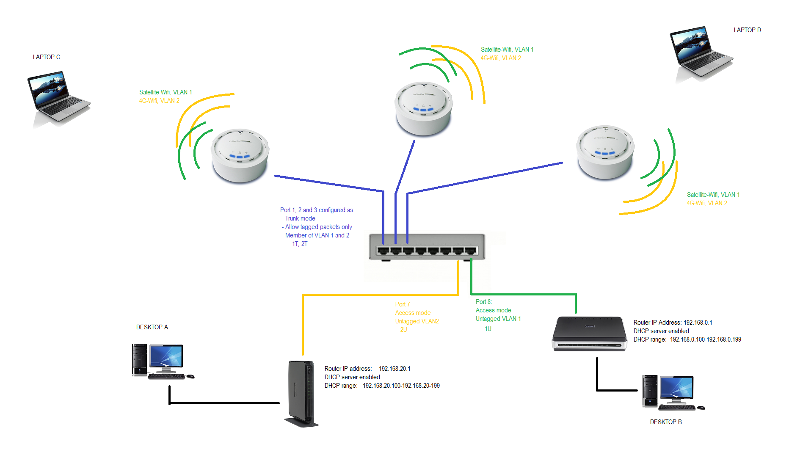 Am I correct in that:
1) The DHCP servers of the two respective routers should not interfere with each other, because they are on separate VLANs
2) Desktop A will get an IP Address in the 192.168.20.xxx range on VLAN2 and access the 4G internet without any special configuration
3) Desktop B will get an IP Address in the 192.168.0.xxx range on VLAN1 and access the Satellite internet without any special configuration
4) Laptop C and D should be able to select whichever wireless network they want, and they will be assigned an appropriate IP address in the correct range, and the user can jump between one network and the other in order to select which ISP they want to use
... Is that correct?