Hey all, I have a bit of a strange situation that I could do with some help in getting to grips with. The company I work for has a customer who has two Exchange 2010 servers located in different physical locations. The head office has been running Exchange 2010 for a couple of years, whereas the branch office was running Exchange 2003 until a couple of weeks ago, when their server was replaced by a new once running Exchange 2010. The server in the head office is called MMVSEX01, the server in the branch office is called MMVSEX02.
Since we upgraded their branch office there has been a problem with the routing of email. What seems to happen is that when users with mailboxes on MMVSEX01 send an external email, Exchange routes the email via the other server (MMVSEX02), which then sends the message back to MMVSEX01, and then it goes out to their smarthost (relay.mx.trendmicro.eu). I say "seems to happen" as I'm not sure if I'm interpreting the header correctly. Running it through mxtoolbox's header analyser certainly seems to confirm this suspicion;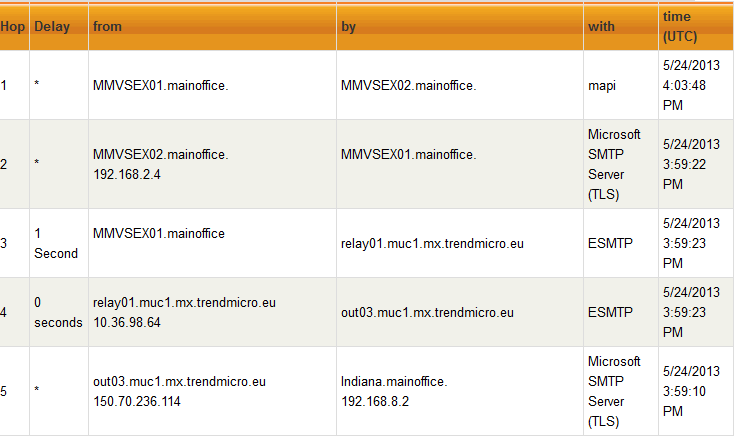 One thing I noticed that is wrong with their configuration is that they have no sites configured in AD other than the default (i.e. default-first-site-name). Would configuring the sites and moving the servers into the correct sites stop Exchange from routing the messages between the two servers unnecessarily? Or is this something I should leave alone? Any advice or insight would be most welcome, as I don't really understand why Exchange is doing this.