Hello everyone,
Because I had problems with my old switches and my new IPTV by Swisscom (main boardband provider in switzerland) I bought two new switches which are compatible to ICMP v3 snooping (a ZyXEL GS1910-24 and a ZyXEL GS2200-8).
I configured the two devices like this:
ZyXEL GS2200-8

and the ZyXEL GS1910-24: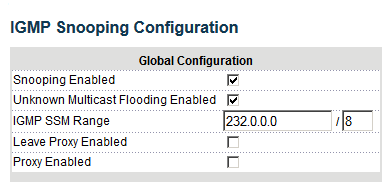 But as soon as I turn on the IPTV the whole network goes down within seconds... so I guess I did something wrong. Maybe someone could point me in the right direction.
A little bit more detailed information about my setup:
The internet fiber router is connected to the port1 of the gs2200-8 and the port2 goes to the rj45 patchpanel which is connect to the media room where the cable is patched to the port1 of the gs1910-24 and on the iptv is patched to the port2 of the gs1910-24.
If you need any more informations just let me know.
Thanks and cheers,
Yves