Yes, this is a familiar question, but after I did some reasearch and still cannot get it work ;(
Here is my hardware and useful details:
1. Only 1 SATA HDD installed, and my winxp installed on it
2. Motherboard is "msi B75MA-E33"
3. Check the picture below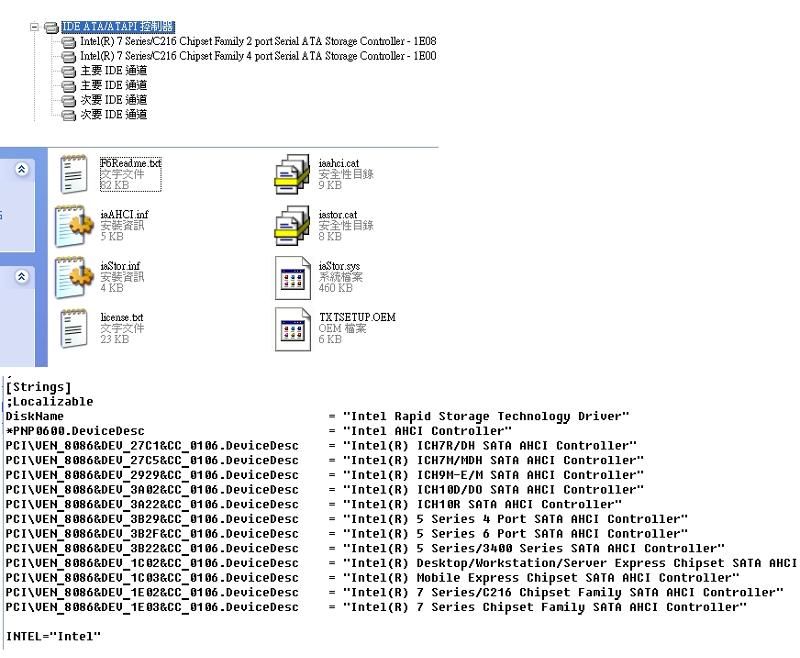 ==========================
==
Since while my HDD run at IDE mode, the chipset shows at device manager was "Intel(R) 7 Series/C216 Chipset balalalala" so I assume the SATA controller for my MB is "PCI\VEN_8086&DEV_1E02&CC_
0106.Devic
eDesc = "Intel(R) 7 Series/C216 Chipset Family SATA AHCI Controller" ; Right?
Here is the question:
Many solution direct me to
1.
http://expertester.wordpress.com/2008/07/27/how-to-enable-ahci-windows-xp/
2.
http://forums.pcper.com/showthread.php?444831-HOWTO-enable-AHCI-mode-after-installing-Windows
3.
http://www.bootbeta.com/blog/guide-enable-ahci-in-windows-xp-after-installation.html
Let's say the first link, part A, [use AHCI driver (provided by manufacturer or download from net)] resulted me blue screen immediate -> set bios to AHCI -> XP startup -> blue screen -> change back to IDE, F8, Last workable config -> nothing change.
first link, part B [5) Choose your driver from the list that returns.] -> it returns an empty list! which I did choose iaAHCI.inf and shouldn't have any problem, any ideas?
Second link, since it's work for ICH9 but not what for my MB, I don't know if I can use that (even if I modified ven_8086&dev_2922 to VEN_8086&DEV_1E02 ?)
Third link, [N. Waiting for completion.] ->blue screen immediate -> (same as first link part A)
=================
So... any ideas?