hello
i have a peculiar problem : we use, as one of many secondary mailservers, a very very old software called post.office 3.5.3 (1998). its speciality is that it does save the single emails it receives as single files in the user's mailbox directory (instead of putting them into a single, bigger mailbox file as new apps do). we then have an app that fetches the mails directly from that directory for further processing (bounce mails from newsletters where pop-session generate stability issues).
anyway, that runs on a very old windows 2000 server. i am now migration most of our stuff to hyper-v 2012. so for this server, i set up a windows 2003 server in hyper-v for this (oldest 32-bit software supported by hyper-v), but i run into an issue when i try to install post.office -> it checks for the free registry size and now gives an error because there is '0' free registry left. but windows 2003 does not have reg size limitation anymore like win2000 did. i can't omit that check -> see screenshot.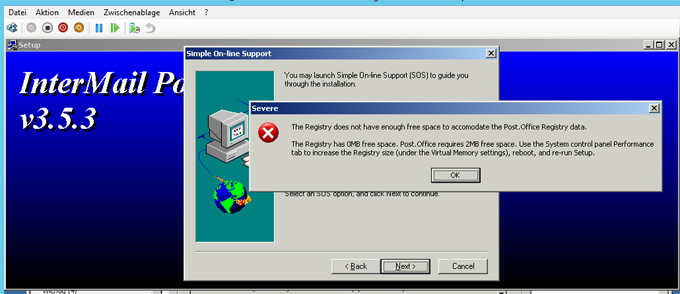 now two questions:
- is there a way to emulate 'free registry space' in windows 2003 server? or another way to circumvent that problem. setting 'RegistrySizeLimit' does not do it.
- does anybody know a windows mailserver software that saves inbound mails as single files like post.office does? meaning 25'000 mails = 25'000 files in the mailbox directory.
thanks for some insights.
lukas
-