Hello Experts...
I need some hand-holding on this one. It's not critical, but just completely bugs me that I can't the meaning of some specific folder list icons in 2008 R2.
Background:
I just migrated from (Old) Domain A to (New) Domain B. The pictures that you see attached are from the user data share. The (data/folder structure) came from a 2003 std server where the individual folders were used to store user data. I believe at one point the folders were set as "Redirection" folders, and possibly at one point were used in conjunction with "Offline Folders" sync. These folders were used by WinXP systems while being on the (2003 functional) domain.
As I move forward, they have been moved (simply copied) to a new 2008 R2 Std server and exist as a directory of shared folders which the individual user accounts set with "Full Rights". Not "home folders", just individually shared manually. No new machines have been connected to these shares yet.
So... What do the icons mean?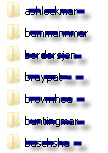 Questions:
1 - Why the clock icon on only one?
2 - Why the paper icons inside the folder?
3 - Why are there "My Document" folders? and how would they have been renamed? (data on the inside of these can be found to be a user's folder like the others.