Dear Experts,
We are performing a migration from a Windows 2003 domain to a brand new Windows 2008 domain.
We performed the migration of 10 or so computers and tested. Everything is working perfectly except for the application Time Matters. We had to back out of the migration until we get this problem fixed.
Here is a summary of the problem and the troubleshooting we have done so far:
Problem: When we launch Time Matters (v11) we connect to the SQL database just fine. The application opens and it seems that it functions ok as well. However, at the same time the application opens, an error message also opens.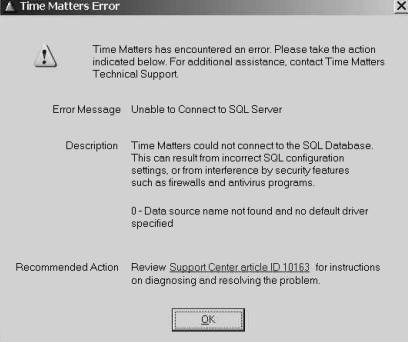 Of course, we go down the rabit hole of looking at the Support Article the error message references and ultimately says there is an issue with SQL (in brief).
When we close the application and close the error message two or three times, it finally leaves us with another error message:

Here is a summary of the troubleshooting we've done to determine that it is NOT a SQL related issue.
From the machine that has been migrated already to Windows 2008 (PC#1), we connect to the new database AND the old one and get the same message.
All of the other machines that are still on the old domain, connect to both databases - old and new - without an issue or error message
On PC#1, logged in with a brand new user account and let Windows create a brand new profile. Get the same error message on both databases
Unlinked all GPOs on the default domain policy on the new Windows 2008 domain. PC#1 has absolutely no GPOs being applied. Same error on both databases
Unjoined domain on PC#1, no error messages EITHER database
No firewall running and AV disabled for troubleshooting
We do NOT have an active support contract with Lexis Nexis / Time Matters so cannot call them. I can't even buy a per incident support case.
Thanks for your help.
Mark