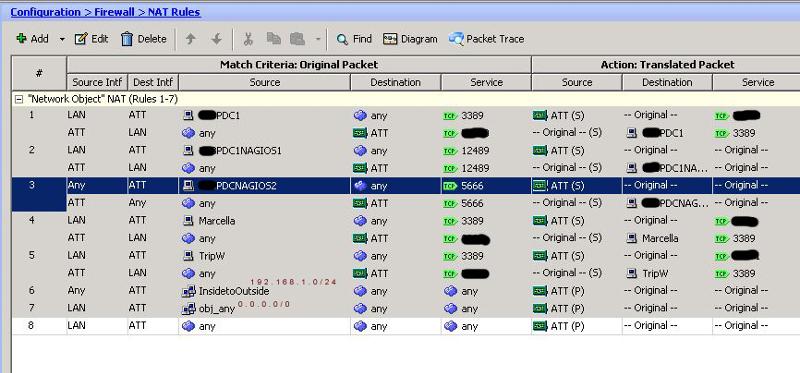 We have an ASA5505 with ASA version 8.3(1) and ASDM version 6.4(5)
For the life of me just can't get it to respond to pings from the outside. We use this to monitor uptime and we need to get it working ASAP.
The syslog continually reports:
Denied ICMP type=8, code=0 from ip_of_our_monitoring_servi
ce on interface ATT
We have created an Access Rule to Permit ICMP echo to the ATT interface, but still can't ping it. Also, we have 2 global rules (one which is not enabled) and 3 really odd NAT Rules (the last 3) which were not created by me and I'm not really sure why they are there. However, disabling the Global Permit rule immediately breaks the Internet.
Can you guys suggest how to 1) allow pinging of the ATT (external) interface from the outside and 2) Configure the device with the minimum amount of required rules
I should clarify this is a super simple setup. Office with a little over a dozen users, Windows PDC server, remote desktop to the server and a couple of other machines for remote administration purposes, plus uptime monitoring with Nagios (those are the ports 12489 and 5666.) As far as routing, the device is not doing anything you couldn't achieve with a cheapo Linksys router.
Attached are images of the main config areas. I entered the IPs of a couple of objects in red just to clarify what those are.
Thanks!