I have looked 'round the Internet and can't find an answer. I have created a simple VS2012 project for illustration.
I have a circular bmp with white around the circle.
It looks like this after rendering; instructing the white to be transparent: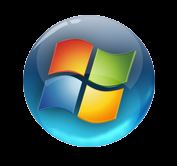 Here is the code:
    Private Sub Form1_Load(sender As Object, e As EventArgs) Handles Me.Load





        Dim bmp As Bitmap = New Bitmap(My.Resources.Windows_7_Start_Orb)




        bmp.MakeTransparent(Color.White)




        PictureBox1.Image = bmp





        Dim g As Graphics = Graphics.FromImage(PictureBox1.Image)




        g.SmoothingMode = System.Drawing.Drawing2D.SmoothingMode.HighQuality




    End Sub



How do I make the edges of the graphic smooth, and discard any unwanted white bits. I've also tried this with PNG.
Thanks!
-Geoff