I have an issue I need help with. This is a disconnected network. I first copied over the update files. I then imported the metadata. The size of the update files on the connected server is 10.97GB and the size of the update files on the disconnected WSUS is 10.97GB. The size of the metadata folder is also the same. The NT Service has full control of the WSUS and the WSUS Content folders and files.
- When I first imported everything the dashboard stated 0 files needed downloaded.
- I did a test push of updates to a test server. I pushed about 55 out of 100 patches. No errors. I did same for a test workstation and pushed about 48 out of 100 patches with no errors. Not really sure whey it didn't push all the 100 patches though. Could it be they weren't needed?
- I then did a second round of patch pushes and then started getting the notification in the Patch window stating Files not downloaded. It was approved and needed. See attached: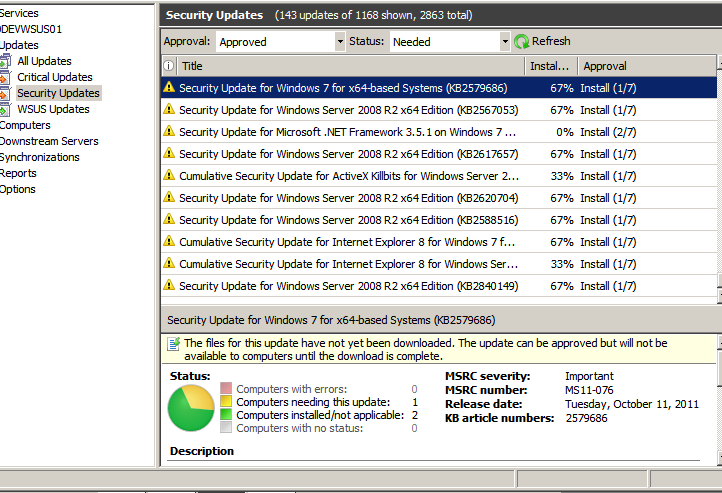 Also on Friday 28 June the dashboard stated 213 needing updates and downloaded 10.90MB out of 1112MB. On Monday 1 July the dashboard states 206 updates need downloaded and its downloaded 21MB of 1112MB. I'm attaching windows update logs for test server, test workstation and the WSUS sever itself. Also attaching error event from WSUS event viewer (event 10032 and error 364). Saw no errors in the test server and workstation event logs relating to updates. Just to make sure my WSUS continues to work I pushed 1 patch this morning to the WSUS itself. The patch I pushed stated the WSUS need it and it was approved last week ande succesffuly deployed to the TestServer.
Please any ideas would be most appreciated. If you need any other info please just ask me.
TestServerLog.txt
TestWIN7log.txt
WSUSUpdateLOG.txt
WSUSEventError.txt
WSUSeventerror10032.PNG