I used Robocopy from a Windows 2008 server to copy some files to an externally attached USB harddrive (because I am under the impression Robocopy can handle file paths longer than 256 characters.
Note
: In my script, I excluded
Thumbs.db
from being copied with a switch:
/XF Thumbs.db
.
Here is my robocopy syntax (in robo_EtoS.cmd):
robocopy "E:\File01Recovered\Files"
"S:\Files" *.* /E /NS /XF Thumbs.db /R:0 /W:0
When done copying, robocopy showed that it skipped some data:
Bytes: 130.236 g
Curious, what does the
"g"
stand for in the above field? Is that Giga-bytes or some other designator?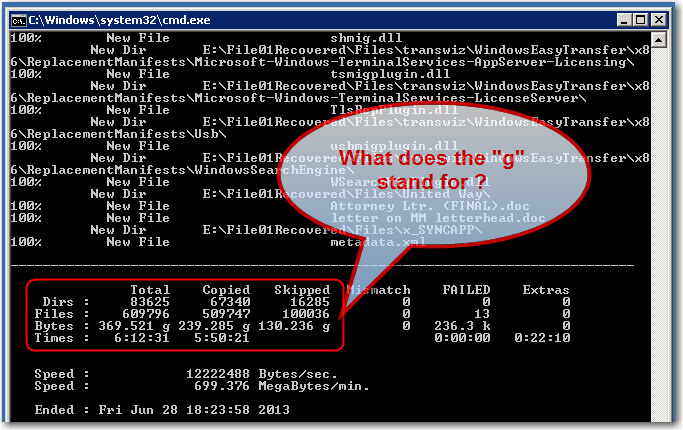 When I compared the Source (E) and Destination (S) drives using Windows Explorer, the results looked different. The actual data robo-copied over to the Destination appears to be only 1GB or so less than what Windows indicates is in the Source, as these two screenshot indicate...
Source on E: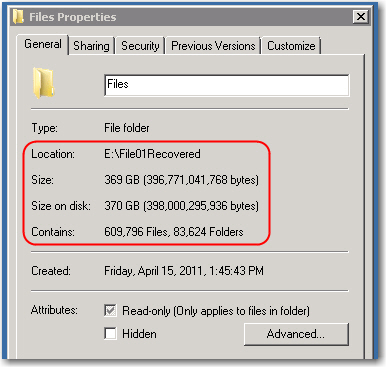 Destination on S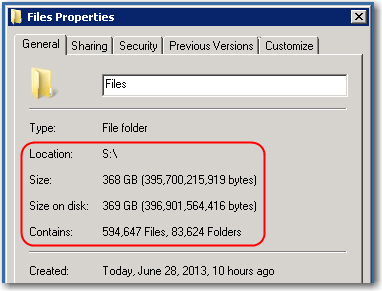 Also note, according to Windows Explorer, that Source on E contains 609,796 files and Destination on S contains 594,647 files. The difference between the two is 15,149 files, which could be explained away by the likelihood that those 15K+ files are all the Thumbs.db's intentionally skipped over by exclusion in my robocopy script.
Any idea why the discrepancy between what robocopy and what Windows shows as data copied from Source to Destination? Could this have anything to do with long file paths - or am I simply misreading what the
"g"
stands for in Bytes?
Thank you. -GET
CMD-of-robo-results.jpg
CMD-of-robo-results-2.jpg