I want to remove the black square which is covering the red circle. I have been using the
clone stamp tool
in Photoshop CS6. The 2 small semi circles represent clone tool stamp sample datas.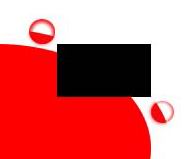 I can use it a little from the top or bottom, but it is useless after that. If there was a way rotate them it would be great, but I don't think it's possible.
Any suggestions ?
Could I create a custom brush from one of the samples and rotate it?
 ....... or perhaps there is an addon available.
Note: The red circle is just an example ..... in reality it is a complex eliptical Jpeg pattern.