In Access 2010 I need to be able to click a command button that will run a query that returns a small two field recordset. Then put the second field in that recordset into a string variable.
This string variable is a link to a word document on the network. the second part of the code will then open the word document.(This part I have working)
I am getting the error Too few parameters. Expected 1.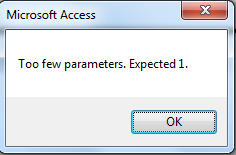 Any help is GREATLY appreciated
Private Sub cmdCESpec_Click()





On Error GoTo Err_cmdCESpec_Click




Dim db As Database




Dim rs As Recordset




Dim s As String




Dim specSheet As String





s = "SELECT tblParts.PartNum, tblParts.CE_SpecSheet FROM tblParts WHERE (((tblParts.PartNum)=[Forms]![frmSpecSheet]![cboPartNum]));" 'Chooses the Correct Spec Sheet




Set db = CurrentDb




Set rs = db.OpenRecordset(s)





specSheet = rs.Fields("CE_SpecSheet")  'Chooses the Spec Sheet Field





rs.Close





    Dim oApp As Object




    




    Set oApp = CreateObject("Word.Application")




    oApp.Visible = True




    




    With oApp




        .Documents.Open ("specSheet")




    End With




    




Exit_cmdCESpec_Click:




    Exit Sub





Err_cmdCESpec_Click:




    MsgBox Err.Description




    Resume Exit_cmdCESpec_Click




    




End Sub