Hi, at our office we have an hp 1040 fax machine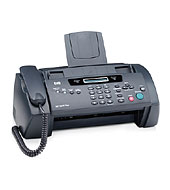 and it had a recall due to being a fire hazard. Hp gave us a list of printers that they will issue up to $100 for a refund, so what you have to do is mail them the 1040 fax machine roller, allong with a receipt showing you purchased a new hp fax / all in one printer.
Here is a list of printers they will give us credit on:
http://faxrecall.hpordercenter.com/US-en/uspl.aspx
I was looking at models that looked similar to the fax in the photo above (the only ones are the hp 2140 and hp 640 fax machines) but the reviews say they commonly take in too many sheets of paper and some pages end up not getting scanned, when you put more then 4 or 5 items in the scanner. That is the same problem we have with the 1040 fax. I would like to buy one that can scan 5 or 6 pages with no problems, so does anyone know if the all in one style printers have a better or worse auto document feeder? (compared to the style in the photo abvove).?
We do not need any of the all in on functions (we have a printer and also have a full size coppier, so the only function it will have is to be used as a fax machine). So given that, would I be better off to just buy the hp 2140 or the 640? Or would the all in one be better to use as a fax?