Hi, I have a friend who thought his charger port was broken on his notebook so he brought it down and it turns out the problem is the flex adapter, it has boken internal wires.
She originally purchased the OEM charger from stapls, (like $90) but they did not have the charger that fit her computer, so they used an adapter with a tip that did fit her laptops charger port. (as shown in photo below)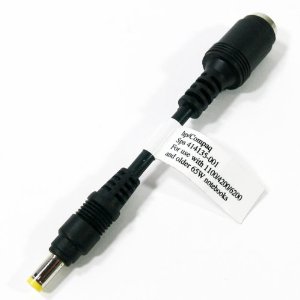 So that adapter goes on to the universal power supply plug. But I dont know where can I find the adapter that fits her laptop? It does not have any info printed on the adapter so not sure what I would search for because it would also have to be compatable with the charger that plugs in the wall as well.
The universal OEM HP charger that staples sold her a while back has a part number of: 608428-003 but also says to replace with spare 609940-001.
Looks like this :
So the adapter has to fit into that plug and the other end has to fit into her laptop charger port. The laptops model number is HPC770US
Any ideas?