Good evening experts,
I am desperate to recover data that I moved over to a brand new Toshiba 1.5 tb external
hard drive that I bought only six months ago. I have been very careful with it and always the eject the drive from the usb icon on my Windows 7 computer. I called Toshiba and they basically told me to go fly a kite. They are more than willing to replace the drive , but I don't care about the drive, I want my data back. I put all my eggs in one basket and got burned, so please, no re-criminations, or "your should have backed your data on more than one device" ,, just give me possible solutions. I already feel stupid for not backing up to multiple areas. I am going to the cloud as, hard drives will always crash at some point. At least this way I have redundancy and fault tolerance.
I need some actually concrete solutions to bringing my data back. I went out and bought a 2 TB western digital hard rive, so I will have a device to recover to, then I will put it all on the cloud.
I cloned the drive with clonezilla thinking that the partitions on the Toshiba were corrupt, so my thinking was that if I clone to another drive, the partition tables will be intact and my data will be available, but this was not the case. Clonezilla (which I love) did its job in cloning , but it cloned the Toshiba drive verbatim. I also purchased ( that's how desperate I am) called EaseUse data recovery wizard. It has been going for 8 hours and 39 minutes and still has 4 hours and 42 minutes until completion. It says its found over a million files so far, but I wonder if it will retain my filestructure: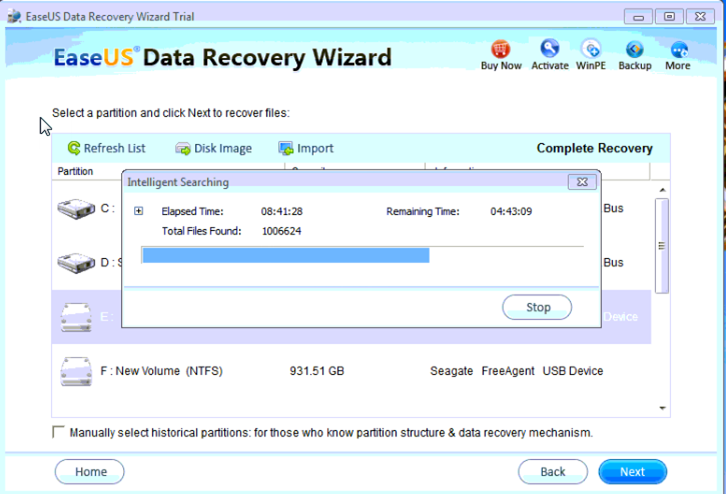 There's got to be a better way. I don't want to have to spend 1000's of dollars to get my data back, but I will if I have to, because my life is on this stupid Toshiba.
Please help,
Regis