I am having a bit of trouble implementing VLAN's across my environment and could use some advice, as I am running out of ideas. I have a L3 switch handling interVLAN routing. All other switches have the L3 switch set as the default gateway. The default gateway for the L3 switch is my firewall router.
I have 19 VLAN's: 1,10,11,20,21,30,31,40,41,
50,51,60,6
1,70,71,80
,81,99,100
- which are created on all switches.
The firewall has routing statements for all VLAN's pointing to the L3 switch as the gateway for each VLAN.
Here's a diagram of the logical network topology: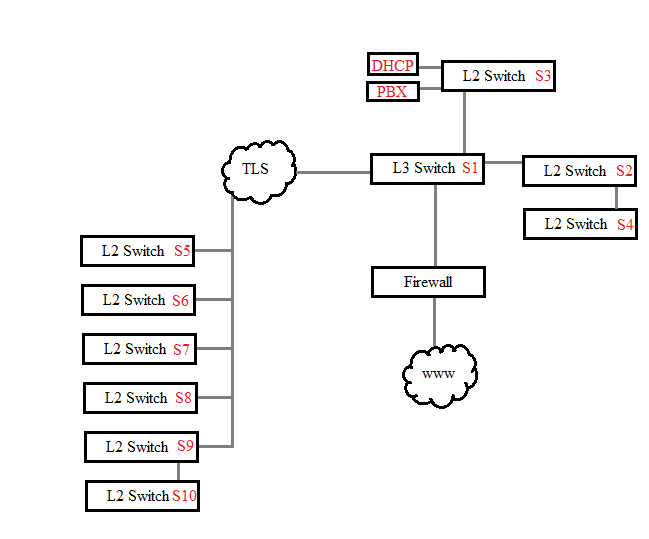 Basically each site has its own switch, and will have its own data vlan and voice vlan. The DHCP server should serve DHCP to all VLAN's.
Hosts on S2 and S3 get IP addresses from DHCP on VLAN's 10 and 11(switchport set to access), however none of the other sites are getting IP's on any VLAN besides VLAN 1. Most of the L2 switches are Cisco small business 200 series switches, and do not support IP helper command. I thought as long as the L3 switch was the default gateway, it could forward DHCP requests to the DHCP server, am I wrong?