Hello Experts,
Please bare with me as I explain this one...
(VBA Code is at the bottom)
In Outlook, I have a special button to execute some VBA code.  When the user does so - they are presented with a UserForm, in which they pick what action they want to do.
For example...
All of the actions are, email templates - which are all sent off to our Customer Service Department, preformatted per the specific request.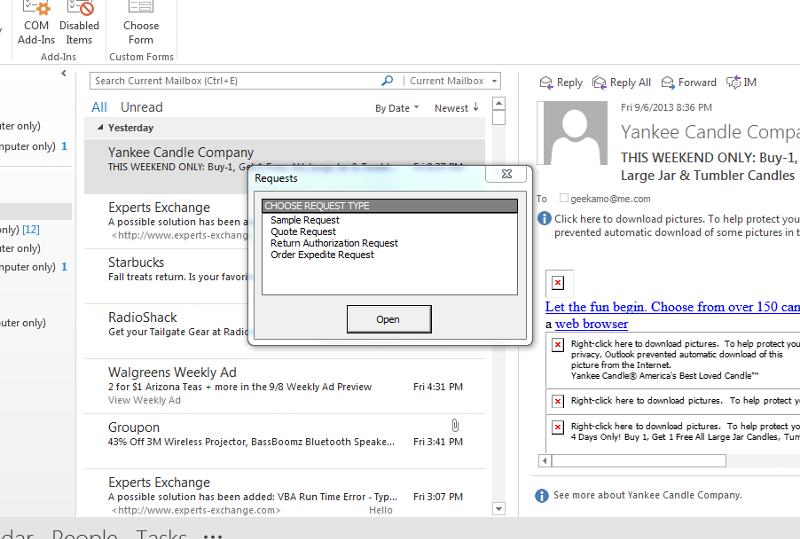 Here is the R/A Request template - showing all the fields that need data.  And you'll also see the "Generate Email" button.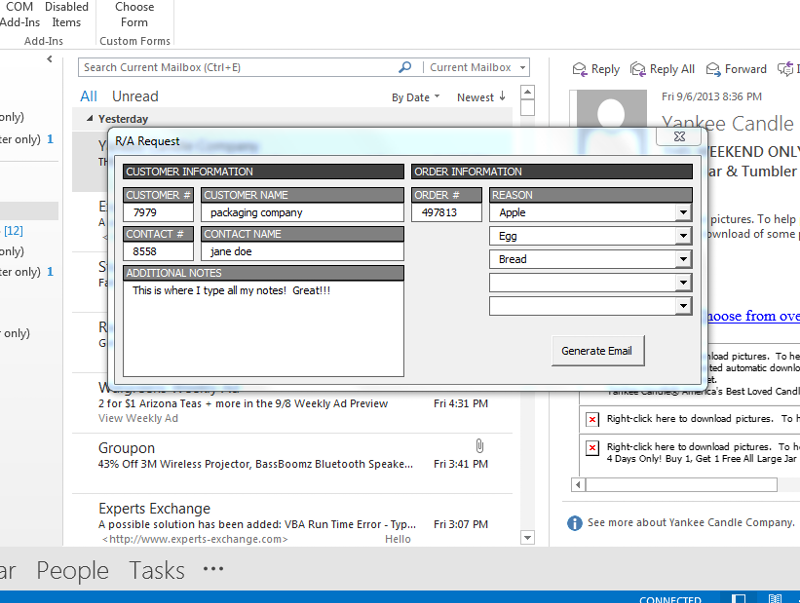 When the user clicks on "Generate Email" - the code behind the scenes executes, and dumps all the form data into an email just like this...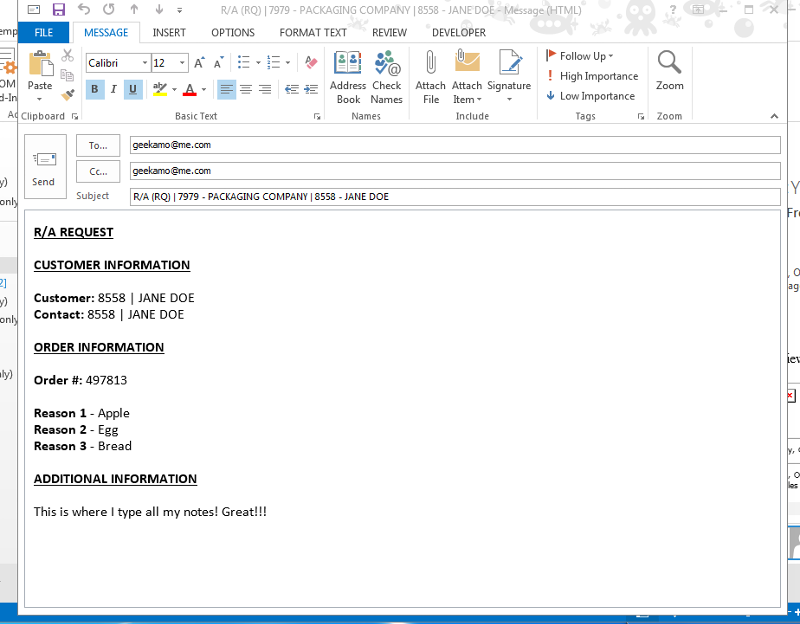 I really have no complaints, other than - I'm stuck with it being a brand new email every time.
There are going to be situations, where the user receives an email from a customer - and wants to forward it along to our Customer Service Department.  Basically, keeping the history trail of that email thread.
Personally, I don't mind the idea of having a brand new email each time - (from my code) because I can easily, drag whatever supporting emails I need, into the newly created email from my code.
But I am pretty sure, some people will be making a stink to this.
Ideally, what I would like is this...
(Mind you, all of what I ask - I will need help with, I am VERY new to VBA and get lost easily...)
1.)  When code is executed - it checks to see what email is selected in the "Inbox" and then remembers that selected email.
2.)  A window pops up, asking the question...
What you like to create a new email, or forward currently selected email?
Options:  New / Forward
3.)  My template window shows up, (first image pictured).  User selects what template they want.
4.)  User fills out template like normal and clicks "Generate Email".
Here's the tricky part...
If the user selected "New", then my code should run as normal, outputting all data into a brand new email like 3rd image pictured above.
But if the user selected "Forward", then the code needs to look at the actively selected email in the users inbox, preform a forward, execute my code to output all the data that was collected at the TOP of the email thread - and still address it and populate the subject.
Does that make sense?
If you have any questions, please let me know.
Thanks,
Geekamo
Option Explicit




Private Sub userform_activate()




     




    Dim i As Integer




    




    Dim cb





    For i = 1 To 5





        Set cb = Controls("cboReason" & i)





        cb.AddItem "Apple"




        cb.AddItem "Egg"




        cb.AddItem "Bread"




        cb.AddItem "Cheese"




        cb.AddItem "Milk"





    Next




    




End Sub





Private Sub GenerateEmail_Click()





'CLEAN UP





    Unload RARequest




    




'CREATE VARIABLES





    Dim mai As MailItem




    Dim Reason(1 To 5) As String




    Dim i As Integer




    Dim strText, RequestNotes As String




    Dim CustNum, CustName, ContNum, ContName As String




    Dim OrderNum, Reason1, Reason2, Reason3, Reason4, Reason5 As String




    




'POPULATE VARIABLES





    CustNum = txtCustNum.Value




    CustName = StrConv(txtCustName.Value, vbUpperCase)




    ContNum = txtContNum.Value




    ContName = StrConv(txtContName.Value, vbUpperCase)




    




    RequestNotes = txtNotes.Value




    




    OrderNum = txtOrderNum.Value




    




    Reason(1) = cboReason1.Value




    Reason(2) = cboReason2.Value




    Reason(3) = cboReason3.Value




    Reason(4) = cboReason4.Value




    Reason(5) = cboReason5.Value




    




'COMPILE EMAIL BODY





    strText = "<b><u>R/A REQUEST</b></u>"




    strText = strText & "<br><br>"




    strText = strText & "<b><u>CUSTOMER INFORMATION</b></u>"




    strText = strText & "<br><br>"




    strText = strText & "<b>Customer: </b>" & ContNum & " | " & ContName




    strText = strText & "<br>"




    strText = strText & "<b>Contact: </b>" & ContNum & " | " & ContName




    strText = strText & "<br><br>"




    strText = strText & "<b><u>ORDER INFORMATION</b></u>"




    strText = strText & "<br><br>"




    strText = strText & "<b>Order #: </b>" & OrderNum




    strText = strText & "<br><br>"





    For i = 1 To 5




        If Reason(i) <> "" Then 'or <> "" Then




            strText = strText & "<b>Reason " & i & "</b>" & " - " & Reason(i)




            strText = strText & "<br>"




        End If




    Next i





    strText = strText & "<br>"




    strText = strText & "<b><u>ADDITIONAL INFORMATION</b></u>"




    strText = strText & "<br><br>"




    strText = strText & RequestNotes




    strText = strText & "<br><br>"




    




'EMAIL OUTPUT





    Set mai = Application.CreateItem(olMailItem)




    With mai




        .To = "geekamo@me.com"




        .CC = "geekamo@me.com"




        .Subject = "R/A (RQ) | " & CustNum & " - " & CustName & " | " & ContNum & " - " & ContName




        .HTMLBody = "<p style='font-family:calibri'>" & strText & "</p>"




        .Display




    End With





End Sub