Hi NT4 gurus, if still any :-))
for some reasons I need to set up a NT 4 server with SQL Server 2000 to be running on top of it. As a requirement, NT 4 SP6 must be installed before SQL.
the Windows NT 4 Server is from a MSDN version image named en_winnt_4.0_svr.iso with SHA1 hashed e3fc54114da8a4c837644b54b7
ef75af30f1
0a30. this version of NT 4 seems like a high encryption edition as i got the following error message when applying SP6 (SP6I386.EXE obtained from Visual Studio .NET on MSDN Disc 2435.4) to it.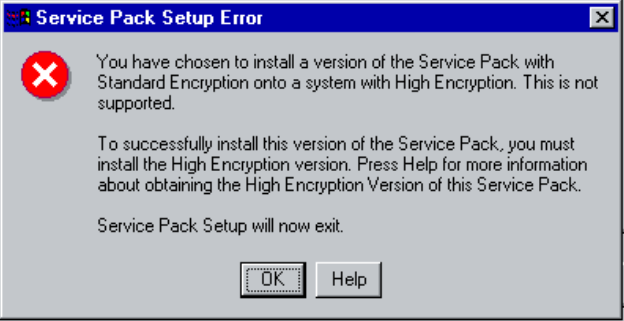 do you know where to download a high encryption version of SP6 of Windows NT 4? or somewhere on the MSDN or TechNET discs? i tried searching it from Microsoft sites and seems like the giant has stopped offering any support to the old OS including the download links of the SP files.
i have to come back here seeking for your help...
regards,
bbao