Issue:
I need to convert a ESXi 5.1 VM currently Thick provisioned into a Thin Provisioned virtual drive.
Original Scenario:
I had a MS Great Plains server running on Server2008 Standard R2 on a PHYSICAL HP Proliant360p. About 4 months after upgrading all of my Core servers into a VMWare ESXi 5.1 Virtual environment I decided to convert this physical machine into a VM. I used VMWare Standalone Converter and the process went smoothly and it has been running without hiccups for about 5 months.
Problem:
I get a call early one morning stating the GP (Great Plains) Server crashed. Upon investigation it looked like a Snapshot was taken but did not delete which  literally used up all of my LOCAL storage on that Host, resulting in the crash and the inability to restart the Servers on that Host. I needed to reboot the Host, which allowed me to access the Datastore and delete the 'stuck' snapshot. Once deleted I was able to power everything on and go from there.
Upon further investigation with this VM I noticed that the drives were Thick Provisioned and checking the size of the Datastore it said I was at 5.8TB before deleting the snapshot - but I only have 3.3TB available total! Upon looking at the Disk management section of my Server VM I see this: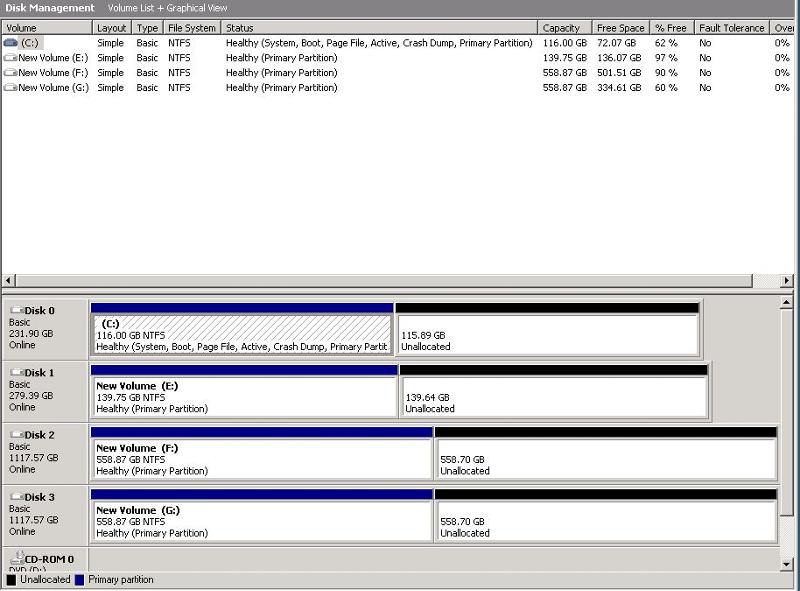 As seen in the picture the drives total to roughly 2.2TB when the original physical Server only had 1.2TB total storage on it. Apparently during the P2V migration it doubled the drives and listed the 'double' as unallocated. I did not see, or apparently skipped over, the migration options to Thin Provision or verify disk sizes so this weirdness occurred.
Now, I have been told that I need to migrate this Server to another Host and specify Thin Provision. I can now do that without issue (thanks to EE legend hanccocka) but by doing this will it also replicate the unallocated HDD space that I do not want? Regardless of Think provisioning, I would never want to allow the Server HDD to grow beyond the originally spec'd 1.2TB and if it did go to 2.2 (including the unallocated) I would end up locking my Host again. I hope I am clear enough to get an answer from someone here.
Additional Info to help:
I have (3) identical HPGen8 Hosts with 3.3TB local storage running ESXi 5.1 . I have a vCenter Server VM. I do not have shared storage or vMotion licensing - licensing is Essentials only, not Essentials Plus.  
Question:
What would be the best way for me to convert the disks to Thin provisioned and also remove the unallocated space that was created during the initial conversion?
As always, your help here is invaluable....