Printer:
HP Laserjet 1320 (locally installed on PC using USB)
PC:
Windows 8 - 64bit (I dont think its possible to join the domain with the current OS on the PC, but not entirely sure)
Server:
Windows Server 2003 R2 Std SP2 - 32bit (used as a "Terminal Server")
The user has changed his PC from a XP 32 bit PC to this one. The printer worked just fine on XP.
The user connects to the server with mstsc.
Printerdriver installed on the PC is "HP Universal driver pcl5-x64-5.6.5.15717"
When the user logs on to the server I see this after a while:

(Before this the Status will be "Opening" - then "Unable to connect".)
I'm not sure what driver (if any) is installed on the server since I'm new to this client.
I did try to run the "Terminal Server Printer Driver Redirection Wizard"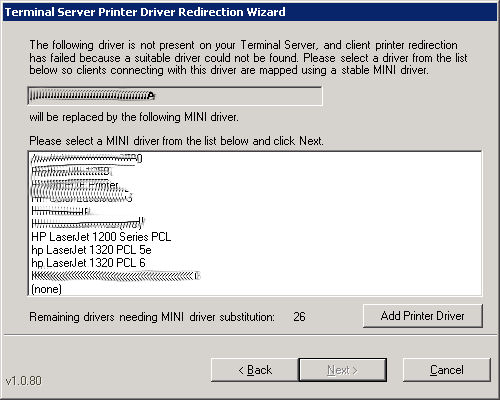 and the only driver I found that resembled this users printer was "HP Universal Printing PCL 5" I did the following redirect:
\system32\TSPDRW\NTPrintSu
bs
[Version]




signature="$CHICAGO$"




 




[Printers]




"HP Universal Printing PCL 5" = "hp LaserJet 1320 PCL 5e"



Reboot the server and reconnected the client PC. But it did not help.
Any ideas/help appreciated! :)