Hi.
(
Forgive me, our network guys are only here once a month, so we are trying to do some research until then ...
)
We have a pretty straightforward network here, but it is spread out over 4 buildings.
We want to make a network "loop", where each building is connected to the next, and then back around. This is so that if one connection to a building fails, there is a another.
We believe we can do this with only one "smart" switch (located where the servers are), and unmanaged "dumb" switches in the other 3 buildings. We are told that if the smart switch does "Spanning Tree Protocol", we can set up a loop in this manner. That switch, we assume, will be a Cisco SG200 model.
Here's our theory ...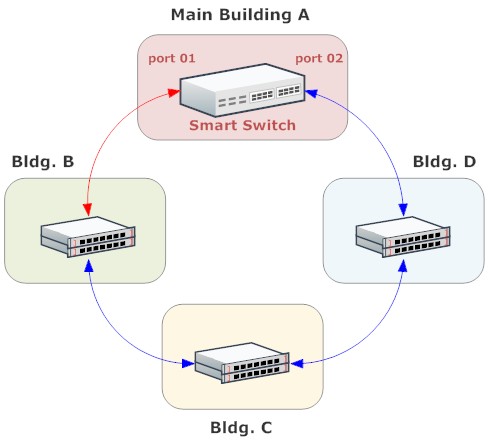 In the example diagram, we would enable
port 01
to be active, so all network traffic Building D would go through
port 01
, through the switches in B and C, then to D.
If the connection between A and B (in red) goes down, then the smart switch would bounce to port 02, and traffic to B would go through D and C. Does that sound right?
Now, what if the connection between B and C dies
? Would the Smart Switch (using STP) start allowing traffic through both
port 01
and
port 02
, as the situation would require?
Any suggestions are appreciated.
BTW, Our backup servers are in Building B, in case Building A goes up in flames or something.