Hello,
I have several users that have some strange counter in their mailbox.
The counter is between [ ] brackets and coloured red.
I have until now not found any way to get rid of those.
Unread/Read doesn't matter, the counter doesn't change.
Other folders that are not affected have no problem, and the unread counter is shown between ( ) as normal in blue.
This is visible in OWA / Outlook Cached Mode / Outlook Online mode.
Anyone has a solution for this? As users would like their mailboxes to stop showing those.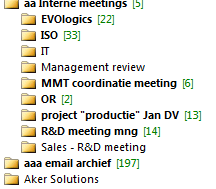 Thanks in advance,
Best regards