I'm trying to uninstall all existing exchange roles on a server in a exchange cluster.
The roles on this server are:
-Mailbox Role
-Client access fole
-Hub transport
We used this server for testing purposes. We (re)moved all mailboxes. And we want to uninstall the exchange roles now.
When i deselect the roles to uninstall them i recieve this error on the prerequisites page:
"Uninstall cannot continue: Database 'Public Folder Database': The public folder database "server name\storage group\database" contains folder replicas. Before deleting the public folder database remove the folders or remove the replicas to another public folder database."
You can also check the attachment.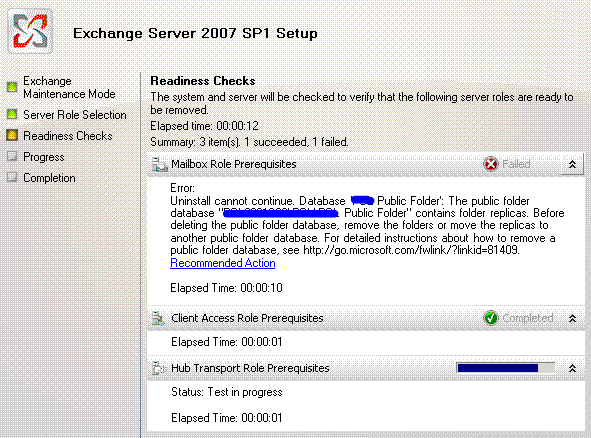 The public folders are constantly used by the users. I can found a lot of articles how to delete the replica's and database while uninstalling exchange from the organisation. That is not what i want to do.
When i connect to the public folder management and check the properties of a public folder i see that there is a replication entry. Do i have to delete those? That will be a hell of job to do on 1000+ public folders.
Any advise would be helpfull.