I have a computer build on a Gigabyte GA-F2A55M-DS2 motherboard.
The build-in graphics chipset is AMD Radeon HD 8000 / 7000 series.
The OS is Windows XP PRO SP3.
Intermittently, the mouse cursor shows up corrupted like so;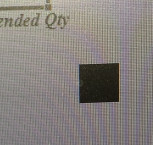 The mouse and chipset drivers are both up to date.
The only way to get around the problem presently is to re-start the computer.
Then randomly it will recur. The problem does not appear to be associated with running any particular applications.
From "chatter" on the internet, it appears that this is a rather common problem.
All kinds of causes have been attributed - but I have found no definitive word on a resolution.
How about our Experts?
Thanks