Hello,
when my users open a PDF file within Internet Explorer 10 (Windows 8)
they would like to use the feature "Add sticky note" and "Highlight text" under
the
Comment
section, see screenshot.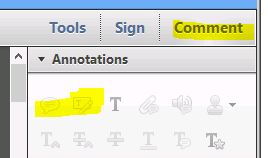 But these features are greyed out and I don't know why.
If the user opens this document in a normal way by starting Acrobat Reader first and open
the PDF manually - no problems.
Is it somehow possible to enable this features for all PDF embeded documents?
insi01