Hi Folks,
I'm not sure if this can be done. I have a crosstab report that shows dppm by category by month and it is dynamic in that it shows the last 6 months of data. It's working great. It was quite a haul to get there with all the queries I had to do and the union at the end to get the Gross and Usage Rows. Here is what the data looks like now.

What I would like to do is add a column to this that has the same models and categories, but the data would be cumulative. Not a total of the 6 months, but since the beginning.
Here is what the new column looks like.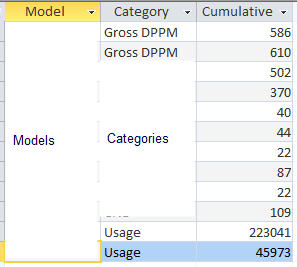 So is there any way to join these two, so that I can make a complete report?
Thanks