This is more of a tale than a question... but I wanted to know your opinion of what you think happened to the PC. I think it has a very "colourful" history.
I recently was asked to look at a "broken" gaming rig for a friend of mine.
This rig was built by a friend-of-a-friend who "knew a guy"... and who didn't exactly do a great job. It was supposed to be a built-to-order PC for $800, but it would be a really great value-for-money because some of the parts are used.
The physical condition of this computer is absolutely bizarre and I wanted to know your opinion was. I've attached some pictures.
--------------------------
---
Here's the story:
The PC was exhibiting problems that suggested an overheating issue. Friend said it ran very slowly and then would freeze or power off. Often it would barely make it to the login screen before shutting itself down. By the time I got it, the computer wouldn't even POST. Just a black screen and spinning fans.
The PC's specs:
- Intel Core 2 Quad Q9300, stock cooler
- 16GB Corsair / Patriot mixed DDR2 800 memory
- 1x Seagate Barracuda 7200.8 250GB SATA drive
- 1x Samsung/Seagate ST320DM001 320GB SATA Adrive
- EVGA GTX 460 Video Card
Not exactly what you'd expect in a "built-to-order" computer... but it gets worse.
The problem I discovered - the Intel CPU's stock cooler had one of the clips busted off. I don't mean it wasn't secured properly, it was
physically missing
. Picture attached. My guess is the CPU cooked itself, and damaged the motherboard in the process.
So with that out of the way, I started looking a bit more closely at this supposedly brand-new built-to-order PC. And there's a lot of other "weird" stuff going on with this computer as well.
Here's a list of strange things I found:
CPU Heat Sink missing it's top-left clip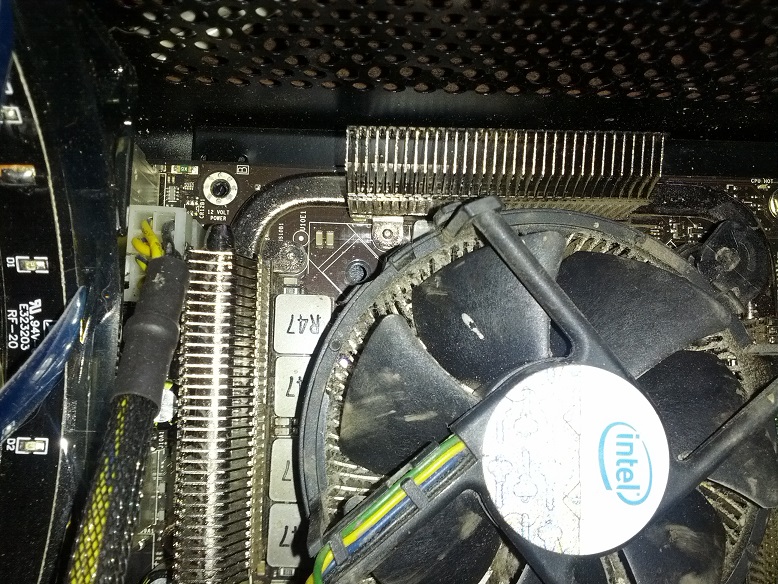 There is a "white residue" all over everything - the CPU backplate where the clips go in, the molex connectors, the FSB heat sink, even the cables for the 24-pin power connector has a fine white powder on it.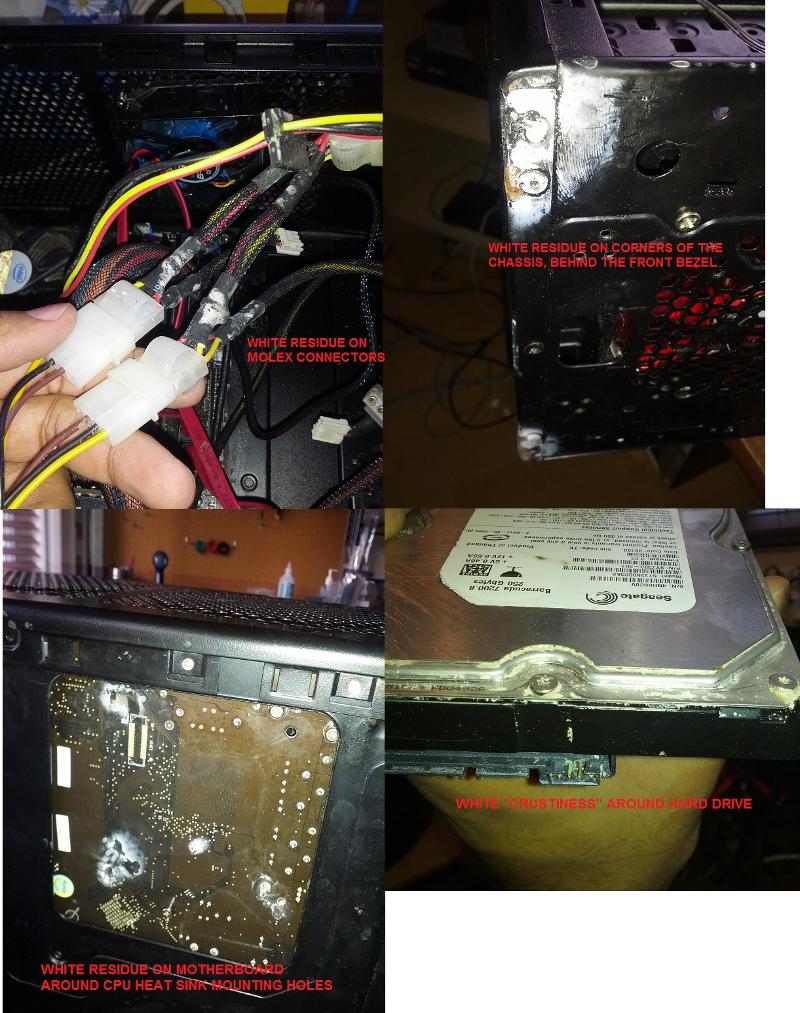 There is a white "splattering" on many things like the FSB heat sink, power supply, etc., like something splashed onto it and then dried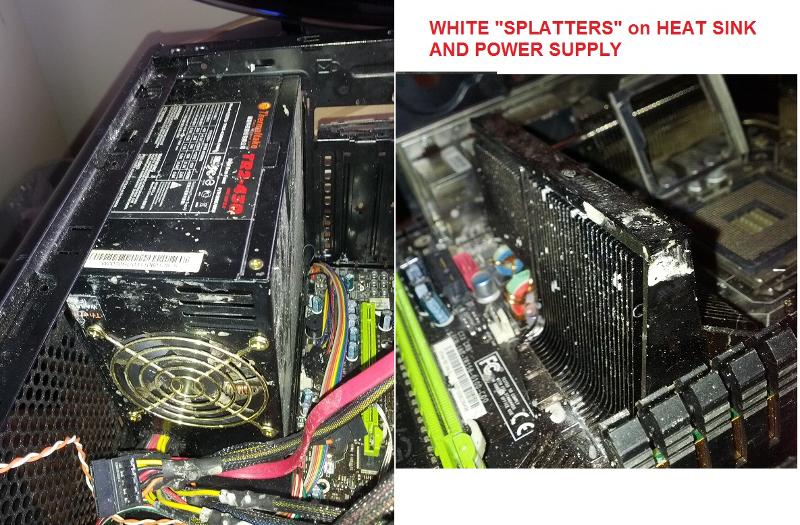 The stock Intel cooler's copper contact has scratches all over it (see pics)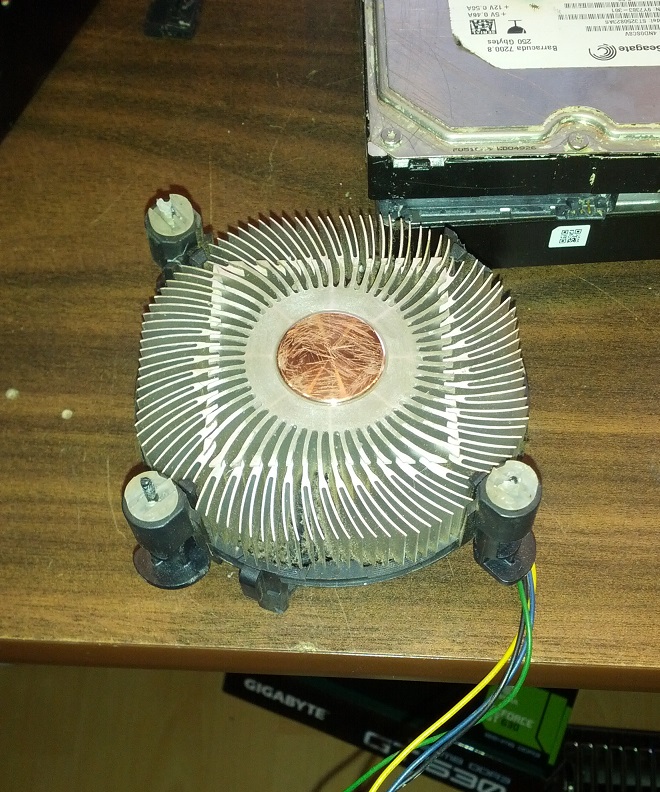 The case was visibly beaten up. The front bezel didn't stay on anymore, the back I/O shield was bent up. And the inside of the case was filthy. There were "crumbs" in the case, not just dust.
At least FIVE of the motherboard screws were missing - they weren't bouncing around in the case, they are completely missing.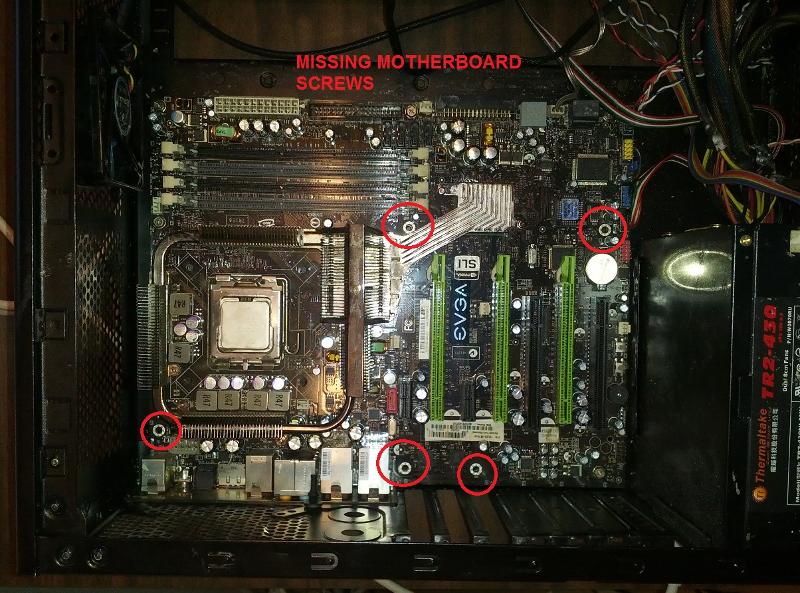 QUESTION: What do you think was the HISTORY behind this PC that made it become the way it is? What is that white residue? How could the CPU heat sink get all scratched up like that? How can half the motherboard screws go missing?
Are there plausible explanations for this, besides the system builder's complete and almost malicious negligence?