Good Afternoon All,
I am creating a c# WPF project, that connects to a ftp site, downloads an XML file, then using LINQ, reads the XML file to present charts/graphs/statistics.
Then every one minute, on a timer, I re-connect to ftp, download and read.
I have all this working correctly.
Downloading from ftp using third party library Tamir.SharpSsh
sftpClient.Get("/" + fName, localSourcePath);



Here is the problem, if I have this program running for 8 hours straight, I would say once every 4 hours I get the following error. Screenshot attached of error...
"a first chance exception of type "system.xml.xmlexception" occurred in system.xml.dll
addition information, unexpected end of file while parsing Name has occurred.
Line 65069 position 14"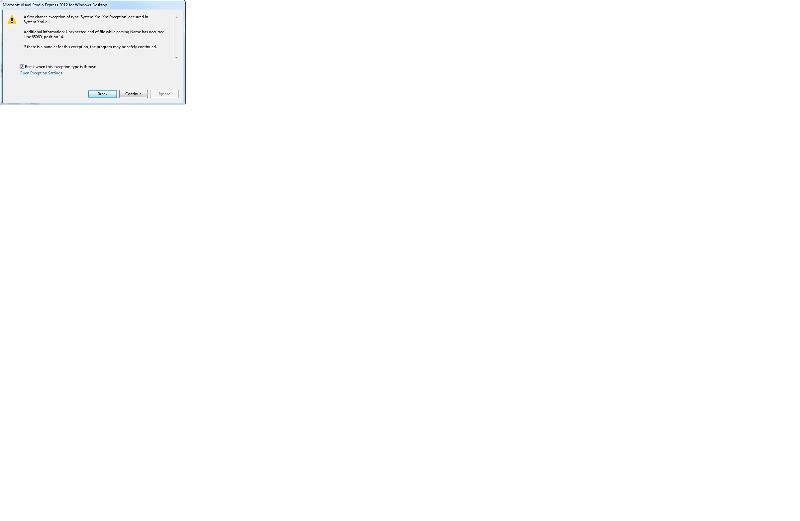 I've been looking online for a couple days now. First I thought I wasn't leaving the connection open long enough for ftp, but I think that's not the problem.
I believe the file has not fully downloaded before I read in the file to all my processing.
Anyone have any thoughts???
Thanks in advance
two methods in question...
        private void HandleNewSourceFile()




        {




            Sftp sftpClient = new Sftp(InputAddress.Text, InputUserName.Text, InputPassword.Text);




            bool connected = false;





            try




            {




                sftpClient.Connect();




                statusBarContent.Content = "connection established successfully...";




                connected = true;




            }




            catch (Exception e)




            {




                statusBarContent.Content = "error on login, connection terminated...";




            }






            if (connected == true)




            {




                ArrayList filesObject = sftpClient.GetFileList(".");




                foreach (string fName in filesObject)




                {




                    if (fName == targetFileName)




                    {




                        CreateDirectoryFolder();




                        sftpClient.Get("/" + fName, localSourcePath);




                        




                        statusBarContent.Content = "file located...";





                        var directory = new DirectoryInfo(localSourcePath);




                        var myFile = directory.GetFiles()




                            .OrderByDescending(f => f.LastWriteTime)




                            .First();




                        myFileDetailsClass.CurrentName = myFile.Name;





                        statusBarContent.Content = "loading data...";






                        //check if xml file is ready to be used




                            bool fileCompleted = false;




                            while (true)




                            {




                                fileCompleted = checkXMLfile(localSourcePath + @"\" + targetFileName);




                                if (fileCompleted == true)




                                {




                                    myDataRefClass.LoadAllData(myDataRefClass.libraryXdoc);




                                    statusBarContent.Content = "data loaded successfully at " + DateTime.Now.ToLongTimeString();




                                    break;




                                }




                                else




                                {




                                    statusBarContent.Content = "file creating in progress at " + DateTime.Now.ToLongTimeString();




                                }




                            }





                        sftpClient.Close();




                        break;




                    }




                }




            }




        }



        private bool checkXMLfile(string sampleXmlFile)




        {




            try




            {




                myDataRefClass.libraryXdoc = null;




                myDataRefClass.libraryXdoc = XDocument.Load(sampleXmlFile);




                Debug.Print("file created successfully");




                return true;




            }




            catch (Exception ex)




            {




                Debug.Print("file creation failed" + ex);




                return false;




            }}