I have a Sennheiser USB PC 8 Headset, which I use all the time on my Windows 7 x64 machine. Occasionally I have to unplug the device for whatever reason and when I re-insert it, windows moans that it cannot find a driver for it.
Usually, plugging it in to a different USB port, and/or restarting the machine will cure this problem, but not today.
I have tried the headset in other machines in the office - they all install fine. I have also tried two of my colleague's headset's in my machine and they too come up with the
No Driver Found
message.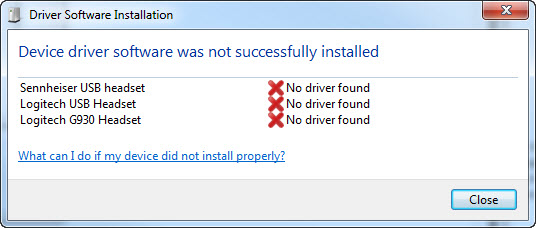 I have also tried the Sennheiser Firmware Updater on another machine, but this offered no updates.
I have also tried removing the device from Device Manager and re-scanning. This finds it again, but same issue.
I am guessing that my
pre-configured driver folder
location that windows reports it is checking (after having consulted Windows Update) is perhaps not correct. How would I check, a) what mine is set to, and b) what it should be?
Many thanks in advance.