I'm running into the error shown below on a few of the Windows XP / Office 2003 machines in the office.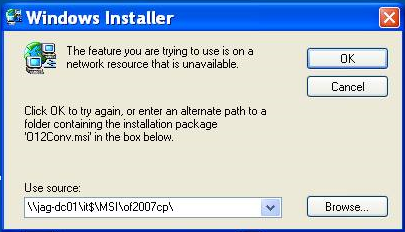 An internet search indicates the error is associated with the Compatibility Pack associated with MS Office 2003 / 2007. Attempts to remove or repair the Compatibility Pack result in the same prompt for 012Conv.msi shown above. (It's a a catch-22.)
Option 1 - Is there a resource out there where I can obtain 012Conv.msi?
Option 2 - Does Microsoft offer a "fix-it" or some similar tool?
Option 3 - Is there another work-around?