Hi all,
I'm looking for help or suggestions relating to an issue that has several of us stumped.
We have a client running Exchange 2013 who is having issues sending as a distribution list that they have set up. The user in question is Bob@domain.com with the distribution list being info@domain.com.
> Bob has send as and send on behalf of permissions for info@domain.com
> Bob is also an owner of the group info@domain.com
If Bob logs into OWA and sends as info@domain.com then the mail goes fine, there are no issues and the mail is received fine both by internal and external recipients, showing as having come directly from info@domain.com.
If Bob sends the email from his Outlook 2013 profile and either types the email address to send as (info@domain.com) or goes into the global address list and selects the "info" group, the mail just sits in his outbox. I've seen this behavior for other reasons in the past but to clarify it's ONLY mail he's sending as the distribution list that does this, others go fine.
The funkiest thing is, if Bob then drags those mails out of his outbox and into his drafts and logs onto OWA again and tries to send them from there, the "from" address shows as being populated by an Exchange distinguished name rather than as the name or email address of the list in question. When this is deleted and the email address put instead it then sends fine from OWA.
I'm guessing the reason for the failure is therefore something to do with the distinguished name being pulled from somewhere and used for sending the mail. If I edit the mail in OWA and click send straight away with the distinguished name still in place it gives an "Invalid Recipient" error (yes, recipient, even though it's the from address).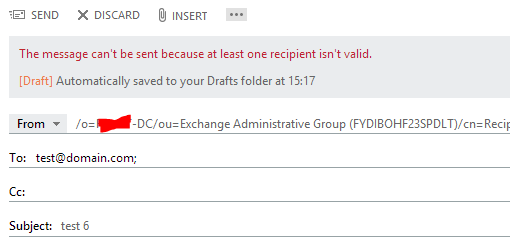 This is a screenshot of the error and the distinguished name appearing when Bob drags the message into Drafts in Outlook and then edits it in OWA.
Whilst I suspect the issue must have something to do with the distinguished name (given that it sends fine when i overtype it with the email address) I can't explain why Outlook is using it or why it seems to register as invalid in OWA.
I've run through things I can think of as obvious, such as updating the GAL and OAB on the local machine but these are showing as up to date. I've force updated it as well as making changes and seeing these represented in Outlook before sending, but the results are the same. The profile is not running in cached mode, but live against Exchange 2013.
Does anyone have any ideas or thoughts that might assist? It's a complete mystery to me!
Many thanks.