Okay, trying to help out a Student, he had an LG external USB hard disk, which he reported 3 months ago, was giving him crc errrors, he did not take advice at this point, and back it up, then he dropped it and broke the usb external connector, and since, it displays the following
I have removed and placed in a SATA 2.5" to USB converter and the following appears.
Issue:-
1. Windows reports, You need to format the disk in drive H: before you can use it?
Do you want to format it?
See screenshot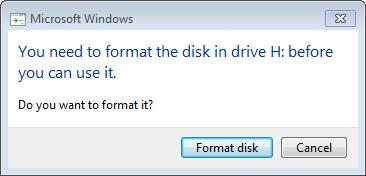 2. Location is not available
see screenshot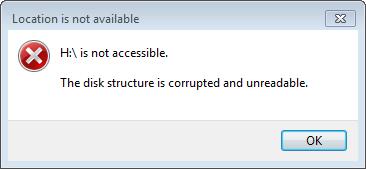 3. Chkdsk does not fix, and reports:-
The type of the file system is NTFS.
Volume label is LG External HDD Drive.
Corrupt master file table. Windows will attempt to recover
master file table from disk.
Windows cannot recover master file table. CHKDSK aborted.
I have tried lots of software to try and recover files and folders, to no avail. I've tried ZAR 9.2, GetDataback for FAT and NTFS, R-Studio, Recuva, Reflect, testdisk.
Please post comments and suggestions, and any software you have personally tested.
No Google Monkeys here please!
Points awarded for software that recovers the files and folders for FREE.
This student does not have any cash to purchase software to recover files, and we are not funding this exercise, other than the free pro bono support already given.
It is very possible that this disk is beyond recovery, and these options of sending the disk to Kroll Ontrack have been suggested to Student, however, it's unlikely he will have the thousands of pounds needed to perform this recovery.