Hello,
I started with an issue regarding the Business Data Connectivity on my Sharepoint 2010 Foundation server. I am receiving the error: "The Business Data Connectivity Metadata Store is currently unavailable."
After researching it for a long time and visiting many many sites (most of which were either the Enterprise or Standard versions, not Foundation, OR they would explain how to do something, but I am unable to do certain steps), I have come to the point where I need to post my own topic before I bang my head too hard against a wall.
I got to the point where I should create/add the Secure Store Service. But lo, this option did not exist anywhere in Central Administration. Nor could I follow anyone's steps to add it because the options they said to click were not available. Very frustrating. Plus it is very time consuming getting through half of a post (multiple times) only to find out the author is using Enterprise, not Foundation.
This user explains the issue I'm dealing with currently and the image they took of the Manage Service Applications section in Central Administration is exactly what I'm seeing:
Similar Post
However, this user apparently resolved their issue by logging in as a Farm Admin. I am logged in as a Farm Admin and still do not see any way to add the Secure Store Service! There are a number of things missing that I need to "install" or create, but I cannot figure out how.
When I setup this server, I did not know much about Sharepoint at all, so it is likely that I may have skipped certain important steps.
Here are a few screenshots of what I'm running into. I do believe the issues are related between the SSS and BDC. Hopefully this helps: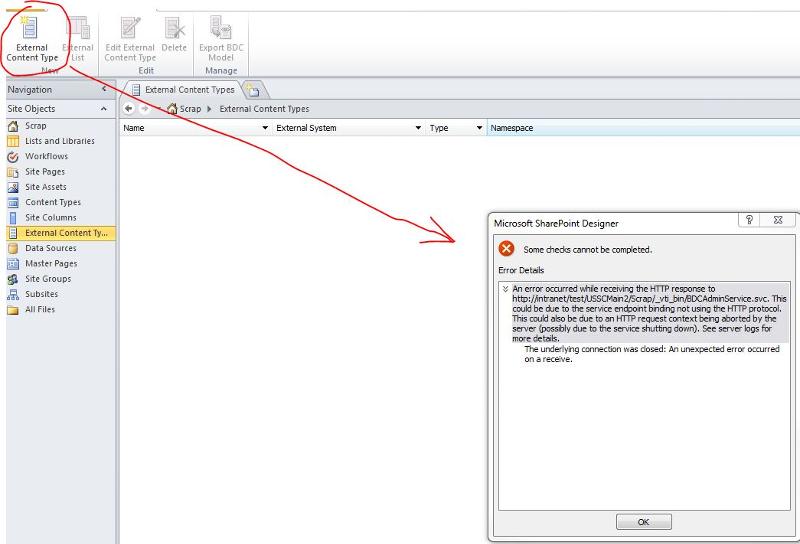 I am running Sharepoint 2010 Foundation x64 on Win Server 2008 Std.
Again, it may be worthy to note that I am not sure if I installed Sharepoint correctly when the server was setup 2 years ago, but I do not know what I am looking for to determine that.
Sorry for the novice approach to this, but that's why I have you all here, right? ;)
I would like to start off with this by setting up the Secure Store Service and then I'll post a new topic for the BDC errors if I still have an issue then.
I greatly appreciate any guidance / help anyone can provide.
Thanks!
Gavin