I am deploying a new software and one of the requirements is that PDF printers are set to start printing immediately, instead of printing after the last page is spooled. This is a picture of how I need it set. By default most/all printers are set to print after last page is spooled. We are needing to do this on Windows XP and Windows 7x64 computers. The server we use is Server 2008.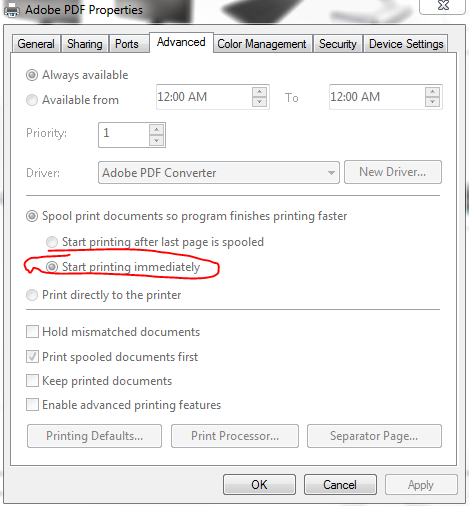 I need to find a way to change this setting on a larger/automated scale, preferably via GPO, so that I can make the change quickly on all existing computers and include new computers as they are added to the domain. I know there are some ways to change printer settings via command line (
http://technet.microsoft.com/en-us/library/ee624057.aspx
) but I'm not seeing a setting to change the exact setting I need changed.
Any suggestions will be appreciated.