( Screenshots Attached ) When spinning up a VM on Server 2012 Hyper-V ... "the chain of virtual hard disks is corrupted" <avhdx identifier> "there is a mismatch in the identifiers of the parent virtual hard disk and differencing disk". Yes.. THIS is the problem.. HELP!
I have screwed up royally.
I was up for over 24 hours, (while it is not an excuse) and I made a series of stupid, foolish, mistakes such as I carelessly moved vhdx files off the public vhd/avhdx hyper-v folder without first having a good backup, a recent snapshot, a backup of that verified backup, and then I did it... The biggest most stupid human-me error, that I don't know where it came from, I did it ..I clicked, and watched helplessly as the system applying your requested yet brainless change and in slow motion as I clicked 'cut' instead of 'copy' and watched 4 months of avhdx files begin their escape from the host to a third server in my rack. "Green bar applying change to your HVD.. Warning".. It was too late.. stupid me, stupid me, stupid me!
Yes.. for whatever reason, in the middle of daylight savings change, I began to cut paste my old 2012 hyper-v avhdx / vhd files for my one server 2012 to another server as I was running rapidly out of physical disk space on the host matching and I cut these from hyper-v folder INSTEAD OF selecting copy..
That's exactly what I did, it was the first time I did not force one or more snapshots and a bare metal backup, along with a file backup, and a good verify...
I mean, I have royally, royally, majorly messed up on this one.. big time.. the worse mistake in 23 years.. The business's production file server, which was running server 2012 dc as a hyper-v vm.... Thankfully this has been the only huge, critical, screwedup, major mess up, but this one is taking the cake, making itself up for all the little snafu's mother luck has helped me to avoid for all these years.. This one makes up for all those years of luck... And I need help.. I have to get this vm up back into production, somehow before tomorrow..
MY QUESTION BEING.. (And I am BEGGING) for help please.. please..please..) Where do I start to fix this one?
My screw up is so bad, I .. Wow. I don't even know what to say..
I am the cause for my own failure in this case, and wow.. oh boy oh boy oh boy.. Man.. I've done it this time... Wow...
ANY help would be appreciated..
Where I am at now... Obviously making a copy of everything related to all the VM, VHD and VHDX... I cannot export anything or spin up anything without getting the mismatch error EXCEPT for the actual VHDX.. I can mount that as a virtual DIE drive and boot into the Server however, and obviously it is the initial creation of that specific vhd from may 2013, bypassing all the vhdx that hold my current data, files, etc..
I cannot mount any of the vhdx without getting the mismatch error..
Here is one of the exact errors from host 'prophet' while trying to start the file server vm, 'covenant':
(I get an error for anything I attempt to do such as export, or snapshot. This is the error upon attempting to start the VM)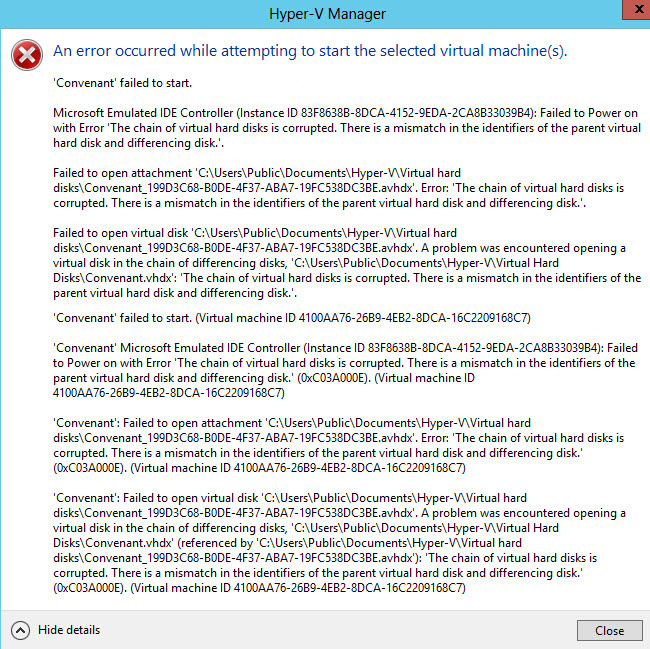 'Covenant' failed to start..
Microsoft Emulated IDE controller (Instance 83F8638b-8DCA-4152-9EDA-2CA8B33039B4): Failed to power on with error 'The chain of virtual hard disks is corrupted. There is a mismatch in the identifiers of the parent virtual hard disk and differencing disk.'.
Failed to open attachment 'C:\users\public\documents\Hyper-V\Virtual Hard Disks\Covenant_199D3C68-B0DE-4F37-ABA7-19FC538DC3BE.avhdx'. Error: 'The chain of virtual hard disks is corrupted. There is a mismatch in the identifiers of the parent virtual hard disk and differencing disk.'.
Failed to open attachment 'C:\users\public\documents\Hyper-V\Virtual Hard Disks\Covenant_199D3C68-B0DE-4F37-ABA7-19FC538DC3BE.avhdx'. A problem was encountered opening a virtual disk on the chain of differencing disks, 'C:\users\public\documents\Hyper-V\Virtual Hard Disks\Covenant.vhdx': 'The chain of virtual hard disks is corrupted. There is a mismatch in the identifiers of the parent virtual hard disk and differencing disk.'.
'Covenant' failed to start. (Virtual machine ID 4100AA76-26B9-4EB2-8DCA-16C2209-168C7)