all computers on this new domain (just created a week or two ago) are getting a DHCP address lease from DC1 of 10.10.11.x. that was the scope created. Good UNTIL they are all also getting a 169 from the server as well.
i have attached a screenshot of ipconfig all

also, weirdly, the DHCP server shows a 169 as the description, but the scope is the 10.x...also attached.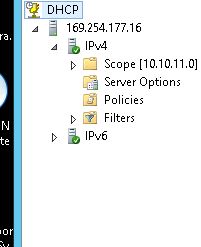 not sure where to go from here...i used the dhcp wizard to completely do the whole IP scheme.