In our domain we run our printers exclusively through a single 2008R2 Print Server. Clients are Win 7 32 bit. I am unsure what exactly happened but it seems like some permissions have changed for our domain users when trying to add a printer from the control panel, devices and printers. They cannot completely view printers in the directory.
When users try to add a network printer using the wizard, no printers will be found and it times out searching for available printers. If you select "The printer that I want isn't listed" and When you try to "Find a printer in the directory, based on location or feature", this happens: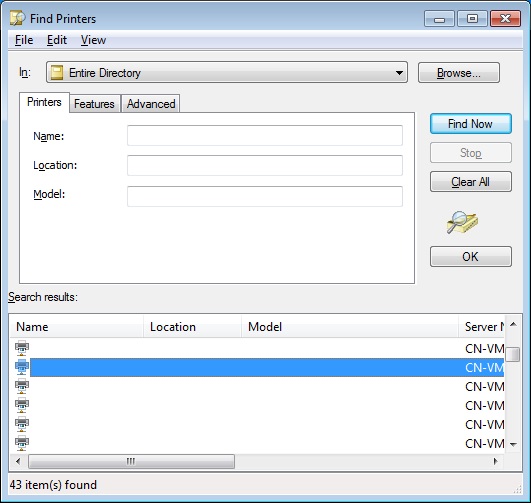 It lists all the printers, but only the Server Name and Comment section actually has text. Name, When trying to add one of these "blank" printers, users get "Unable to add the printer connection, Double check the printer name and make sure that the printer is connected to the network."
The strage part: Domain users have no issue at all and can successfully add printers when connecting to the print server via explorer and UNC "\\PrintServername\printer
_name" method or in the add printer wizard under the "select a shared printer by name" by browsing to our print server.
When logging into the same windows 7 client as a domain admin and trying to add the printer from that print server, I have no issues at all. The printer search will list all the directory printers and so will the 'find a printer in the directory based on location or feature displays all information about the shared printers on our print server and can successfully add printers.
Troubleshooting: I have reviewed the printer permissions in print management for our print server. We give everyone the "print" right. I have unlisted, restarted the spooler service, then re-listed all the printers in the directory. I have moved the print server out of it's OU into the generic with no GPO's and forced and gp update with the print server with no luck. All the printer objects are visible in ADUC and also in ADSI Edit.
I don't think it's a problem on the print server since users can connect and print via unc path to shared printers. But an issue with rights to view, read, or list 'stuff' in the directory for Domain users.