I have written a SSRS report to return some results. The reason for the report is to find a specific file in a network share, and then be able to open the file via the network share.
One of the columns returns a hyperlinked Advanced Query Syntax query build up from the available data to make the AQS query results as specific as possible. The idea is to click on the hyper link and this would open a Windows Explorer window with "as specific" results as possible given the constructed query and utilize the windows search functionality.
The result of the AQS query look something like this:
search:query=filename_yyyymmdd_hhmm*.pdf&crumb=location:%5C%5Csharename%5Csubfolder%5Csubfolder%5C
Unfortunately the date/time section of the file name in the database table is slightly different (a few seconds either way) than the actual file name in the network share, hence search is used rather than the absolute path.
I successfully used the AQS query to find files in Windows Explorer and accessed the SSRS report via Firefox which exhibited the desired result, i.e. click the hyper link which opens a new Windows Explorer window (with the location specified from the AQS query) and the search text box populated with the search criteria from the AQS query.
Enter Internet Explorer … :(
It seems that once the hyper link is clicked Internet Explorer gets the AQS query "as is" but "corrects" the percentage encoded location sections (i.e. %5C%5C to \\ and %20 to ' ') and this "breaks" the AQS query since the location isn't specified as it is with a windows share (i.e. "\\servername\share\file name" ) but rather with percentage encoded backslash and space values (i.e. %5C%5Cservername5%Cshare%5
Cfile%20na
me).
When the hyper link is clicked the behaviour is as follows: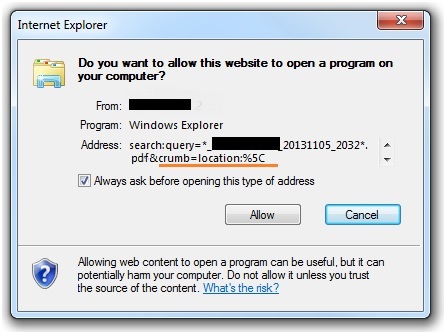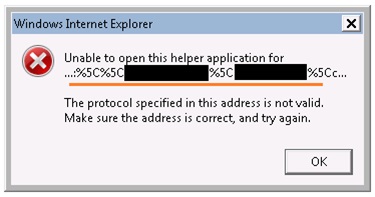 Is there any way to let internet explorer behave like firefox in this regard, i.e. open a Windows Explorer window and use the hyperlink "as is" and not "correct" the query?
Is there a better way to get the same end result?
Many thanks in advance.