I've got a problem. I had a Hyper-V Host server fail on me and it was a Domain Controller, it hosted a VM which was also a domain controller. I had to reinstall the Hyper-V Host OS, I've tried to get the guest VM to run but it fails with an error 0xc0000145.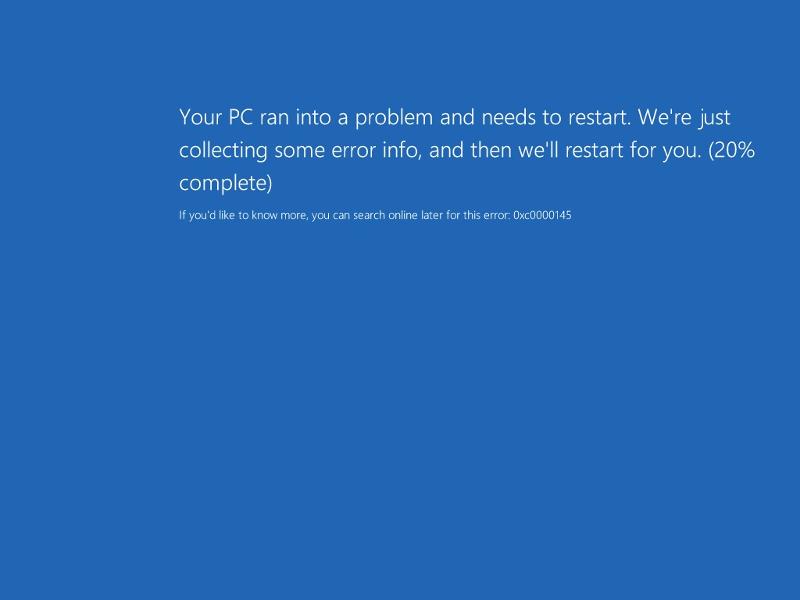 Now I don't NEED this VM as it didn't have anything on it that I can't replace.
But this issue is the status of my domain. I've got another VM running on a different machine that is a DC and still runs. The VM that I can't get to boot was the Primary FSMO Holder for all roles. I've run ntdsutil and seized all roles onto the running DC. I then tried to join the new Hyper-V Host to the domain and it failed with the error "An Active Directory Domain Controller (AD DC) for the domain 'mydomain.net' could not be contacted. Ensure that the domain name is typed correctly. if the name is correct, click details for troubleshooting information"
Clicking on the Detail Button gives this...
--------------------------
----------
----------
----------
----------
----------
----------
-------
Note: This information is intended for a network administrator. If you are not your network's administrator, notify the administrator that you received this information, which has been recorded in the file C:\Windows\debug\dcdiag.tx
t.
DNS was successfully queried for the service location (SRV) resource record used to locate a domain controller for domain "rsforbes.net":
The query was for the SRV record for _ldap._tcp.dc._msdcs.mydom
ain.net
The following domain controllers were identified by the query:
ad-dns2.mydomain.net
However no domain controllers could be contacted.
Common causes of this error include:
- Host (A) or (AAAA) records that map the names of the domain controllers to their IP addresses are missing or contain incorrect addresses.
- Domain controllers registered in DNS are not connected to the network or are not running.
--------------------------
----------
----------
----------
----------
----------
----------
-------
I've edited the dns and removed all entrys for the 2 servers that failed so only the currently running one is listed. It's A record is correct and I can ping it from other computers by name.
I've tried going into Active Directory Users and Computers but it fails to connect to the domain with the error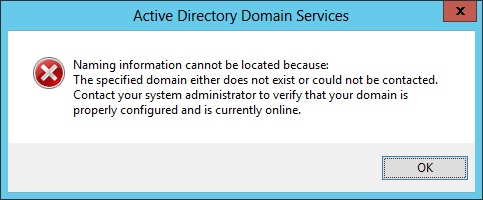 When I right click and try to 'connect to domain controller' I put in the name of the DC and get this error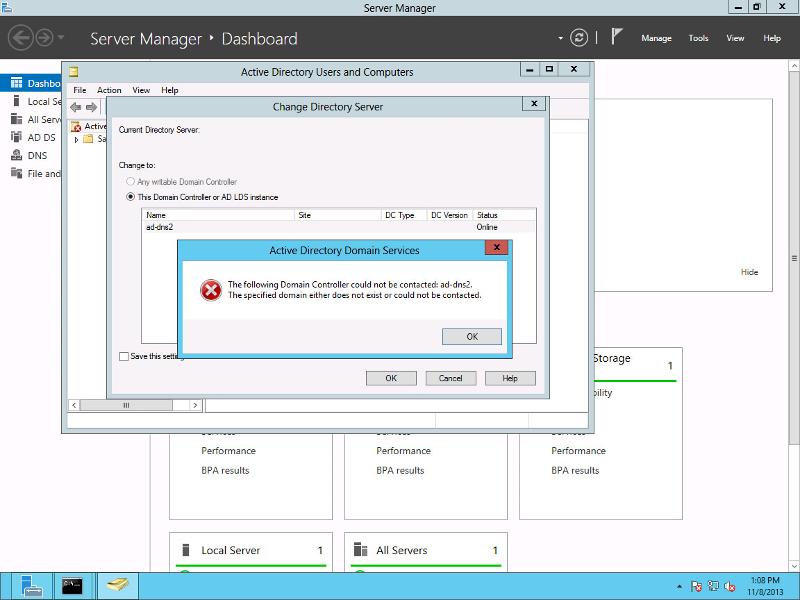 I've run dcdiag /e /c /v and this is the output of that...
dcdiagLogText.txt
That still shows the 2 server that have failed, I can't get into AD UC to remove them. So I used ADSIEdit.msc and deleted them that way. Reran dcdiag /e /c /v and the output is ...
dcdiagLogText2.txt
As you can see it's still trying to find the two servers that should have been deleted.
How can I get this fixed? I don't what to have to dump the whole domain and rebuild.